School News
MBA Duo Proposes Innovative Immigration Initiative to Revive Distressed American Cities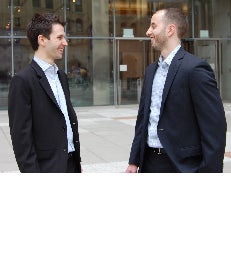 By teaming up, we were able to produce something that neither one of us could have done individually.
While taking a course entitled "Global Economic Trends and Policy Challenges," with Professor
Gian Luca Clementi
, MBA students Ian Greenhaus and Noam Lefkovitz developed a plan to tackle two defining issues of the 21st century in the United States – the revitalization of economically stalled cities and immigration reform.
"By teaming up, we were able to produce something that neither one of us could have done individually," explains Noam, a municipal bond trader at an asset management firm and a student in NYU Stern's
Langone Part-time MBA program
. "I had a good understanding of a city's financials from my experience trading municipal bonds and Ian had knowledge on immigration policy and theory."
According to Ian, who serves as a senior research analyst at a private investment firm and is also a Langone MBA student, Professor Clementi's course provided an overview of the problems facing the world today: "We analyzed issues using real-time economic data and measured the effectiveness of different strategies that have been implemented in different countries with similar problems."
"Paired with our expertise, this course enabled us to come up with an innovative proposal," explains Noam. In their final paper entitled, "Targeted Immigration for Economic Revival," Ian and Noam outlined a plan to address issues of poor economic performance in former manufacturing cities and immigration policy that limits the number of immigrants who are allowed to enter the US for employment reasons. The students proposed a solution that would increase the number of visas that the US government offers to highly educated immigrants if they work in a distressed city. They also pointed to several benefits of their proposed initiative: providing a new pipeline of educated workers to help US companies grow; immigrants filling jobs that may otherwise be outsourced; and helping distressed cities attract high-growth companies.
Read a full summary of their
proposal
.
Beyond their new policy ideas, Ian and Noam found the skills that they gained in class to be immediately applicable to their jobs: "Professor Clementi taught me how to analyze problems and situations by examining the costs and payoffs of different outcomes," explains Noam. "We learned a framework for identifying the underlying drivers of economic change and how to make smart investment decisions," says Ian.