Research Center Events
Leading Academics Gather for the Ninth Annual NYU/Penn Conference on Law and Finance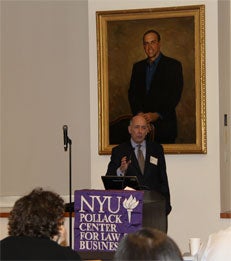 Faculty from top business and law schools convened on February 8 and 9 to present, discuss and debate their work at the ninth annual NYU/Penn Conference on Law and Finance. The event was co-hosted by NYU's Pollack Center for Law & Business and the University of Pennsylvania's Institute for Law and Economics, and sponsored by NERA Economic Consulting. Considered the premier annual conference on law and finance, this forum offered leading academics an opportunity to focus on timely and relevant subjects at the intersection of law and finance, including shareholder activism, corporate governance and executive compensation.
William Allen
, Director of the NYU Pollack Center for Law and Business, Jack H. Nusbaum Professor of Law and Business, and Adjunct Professor of Law, provided welcoming remarks at the event.
Viral Acharya
, C.V. Starr Professor of Economics and Director of the NSE-NYU Stern Initiative on the Study of Indian Capital Markets, presented his co-authored research paper, "
Competition for Managers, Corporate Governance and Incentive Compensation
."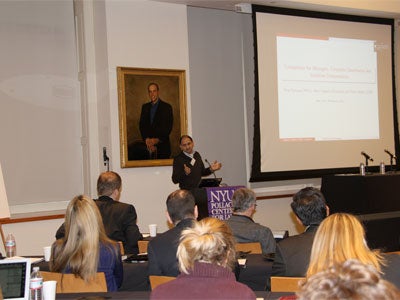 About the
NYU Pollack Center for Law and Business
:
The NYU Pollack Center for Law & Business is a joint venture of the NYU Stern School of Business and the NYU School of Law that aims to bring together the resources of both schools to enhance graduate business and legal education and student and faculty research in areas where law and business intersect.