School News
NYU Stern's MS in Business Analytics Program Hosts Executive Education Days at NYU Shanghai & the London School of Economics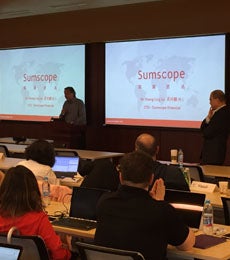 NYU Stern's
MS in Business Analytics
program hosted an Executive Education Day at NYU Shanghai, integrating local and regional expertise into students' academic development.
Students benefit from access to local area businesses and executives, to gain insight into the application of business analytics to solve relevant challenges with an international scope. Presenters covered fintech, technology, banking and financial consulting, and included Shang-Ling Jui, CTO of Sumscope Financial Technology; Sync Shan, director of data at Dianrong.com; Esmond Jeng, head of APAC/China at Opera Solutions; Shahid Saiyad, mobile leader for global business services at IBM in the Greater China Group; Rusheng Huyan, COO & co-founder of UnionPay Advisors; and Chi Chen, partner at Ernst & Young.
The event was the second of its kind, following the first which was held on August 9 at the London School of Economics (LSE). Amitav Chakravarti, professor of marketing at LSE, spoke about consumer insights and presented a case study. Ben Brownlee, program assurance director at BBC, discussed the practical application of data in major projects at the BBC.