School News
NYU Stern Students Win First Place in Eighth Annual MBA National Case Competition Sponsored by Deloitte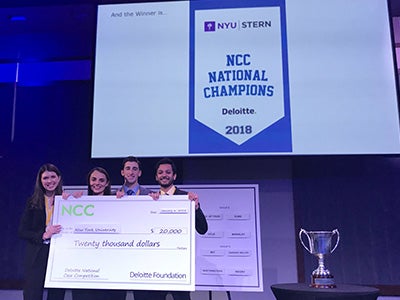 A team of NYU Stern MBA students won the eighth annual
MBA National Case Competition
sponsored by Deloitte. The team, including Eric Gioseffi (MBA '19), Denitsa Kosharova (MBA '19), Utkarsh Satyawadi (MBA '19) and Kelly Williams (MBA '19), earned a combined scholarship of $20,000 for their presentation, which took the top honors, marking Stern's first win in the competition.
More than 1,000 MBA students across the country entered the regional competitions, while 64 students making up 16 teams advanced to the national finals at Deloitte University, Deloitte's leadership center near Dallas, Texas.
"Our team, Team MECE, was formed as a result of a lot of coincidences and cosmic connections," said Utkarsh. "We did not really know each other and a few of us met for the first time on the day of the local competition but, as soon as we started, everything just clicked."
The teams were charged with developing a strategic proposal and presentation to answer a business challenge posed by Chameleon Cold-Brew focused on achieving growth for the company.
"Our strategy throughout the case was to avoid whatever we felt was the obvious answer, as we were competing against the top talent from 15 MBA programs," said Eric. "We knew differentiated thinking and approach would be the key to our success. Once we came up with our solution, we immediately began the storyboarding process and then substantiating our story with facts. Fortunately for us, we all come from different backgrounds, so we were able to play to our strengths and break out the story accordingly. The fact that we were all excited by our idea certainly helped motivate us to work quickly and efficiently."
"During brainstorming, we refused to settle for the obvious solution and spent a good portion of our first day challenging each other's ideas to make sure what we presented to the judges was our best," said Denitsa. "Another factor in our success was our ability to identify the strengths of each team member and focus on a section of the presentation where each of us would be most productive. And we had fun!"
The teams presented to a panel of 26 judges that included Chris Campbell, president and CEO of Chameleon Cold-Brew, as well as a combination of top industry executives and Deloitte leaders.
"Our team leveraged our individual strengths throughout the competition, which collectively resulted in a well-rounded proposal that we were excited to present to the judges," said Kelly. "The collaborative and supportive attitude for which Sternies are known was true within our team, which was so important during those long, tense days of competition. The Stern network at Deloitte was also a huge asset. They were as invested in our success as we were, and their support and coaching throughout helped us prepare for the tough questions from the judges."
"Each year, at the start of the competition a huge set of banners are rolled down with an explosion, bearing names of the past winners," said Utkarsh. "The absence of NYU Stern in those banners was a huge motivation for us, and it seems surreal that, starting next year, NYU Stern's Team MECE will be immortalized as the winners of the 2018 Deloitte National Case Competition."