Research Center Events
NYU Stern-TCH Gallatin Lecture Series on Banking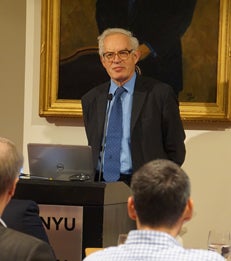 The
NYU Stern Salomon Center for the Study of Financial Institutions
and The Clearing House hosted the fourth installment of the Gallatin Lecture Series on Banking on Friday, October 23. Charles Goodhard, emeritus professor of banking and finance at the London School of Economics, spoke on "The Determination of the Quantity of Bank Deposits" at this quarterly series on banking and bank regulation.
Specifically, Professor Goodhard argued that the private sector creates credit and money for itself, as opposed to the claim that banks create credit. He noted that the banking sector is the medium through which private sector clients create credit and money on the terms and conditions set out by the banks. Therefore, the creation of money is much more complex than as described by many commonly accepted and taught paradigms.
Learn more about future Salomon Center events
here
.