Research Center Events
NYU Stern-TCH Gallatin Lecture Series on Banking with Lord Mervyn King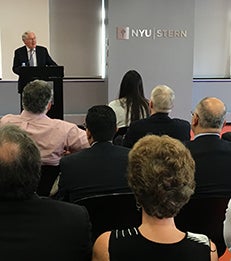 The NYU Stern
Salomon Center for the Study of Financial Institutions
and The Clearing House hosted the sixth installment of the Gallatin Lecture Series on Banking on Monday, September 13. Lord
Mervyn King
, Alan Greenspan Professor of Economics, spoke on "Rethinking Crisis Liquidity Provision" at this quarterly series on banking and bank regulation.
Using the analogy of firefighting, Lord King reflected on the banking system's failure to prepare for the possibility of a global financial crisis of the magnitude experienced in 2008 and offered thoughts on how liquidity provisions could be redefined to include preventative and responsive measures, thereby protecting the system from bank runs and contagion.
"In today's world, it is not enough to leave the fire engines in the station in wait of the next crisis," he told a packed audience of students, faculty and practitioners.
To learn more about future Salomon Center events, please visit the
Center's website
.