Research Center Events
Center for Business Analytics Hosts Revenue Management Roundtable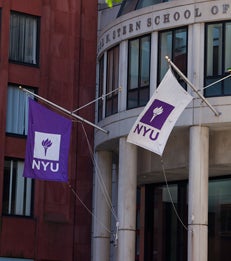 On December 5, Associate Professor of IOMS
Rene Caldentey
, CBA Executive in Residence Rick Zeni, Professor of IOMS and Marketing and Co-director of the Center for Business Analytics
Anindya Ghose
, and Associate Director of the Center for Business Analytics Mandy Osborne, hosted a revenue management roundtable discussion.
Business leaders from Fresh Direct, Jet Blue, Starwood Hotels & Resorts Worldwide, the Taxi & Limousine Commission of New York City and Warby Parker convened with Department of Information, Operations, and Management Sciences faculty and MBA students. NYU Stern faculty shared highlights from their revenue management research including demand forecasting, dynamic pricing, demand learning and pattern recognition, personalization and more.
These executives shared their strategies, challenges and the revenue management questions that 'keep them up at night,' and the group engaged in a lively conversation. They discussed determining true demand, integrating sales and price optimization, bundling vs. unbundling products, customer segmentation and promotion, and identifying channel costs. Questions included: What does an efficient revenue management process look like? How do you balance the science of an automated process with the art of human adjustments? How do you respond when your process results in a clear miss, or in contradictory information? One executive added that her team generates a wealth of great ideas that are limited only by the technology available to implement them.
Learn more about NYU Stern's
Center for Business Analytics
.