Student Club Events
SHA's 2013 Healthcare Summit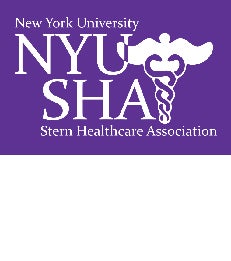 Date
: Friday, November 1, 2013
Time
: 4:30-8:30 pm
Location
: NYU Stern, Cantor Ballroom, 44 West 4th Street, New York, NY 10012
The Stern Healthcare Association will host its annual Healthcare Summit on Friday, November 1. The Summit provides an opportunity for students and professionals to learn about careers in the Life Sciences and Healthcare industries, including positions with healthcare providers, pharmaceuticals, investment banks and consulting firms. The event will touch on a wide variety of current topics, such as the changing landscape of the U.S. healthcare industry.
This year's speakers include:
Anthony Shorris, senior vice president, vice dean and chief of staff at NYU Langone Medical Center
Angeliki Cooney, director of thought leadership at IMS Health, the world's leading provider of information, services and technology for the global health community
Avik Roy, senior fellow at the Manhattan Institute for Policy Research, and former healthcare analyst and portfolio manager at Bain Capital & J.P. Morgan
For more information or to register, please visit the
conference website
.