Student Club Events
NYU Social Innovation Symposium: Innovative Thinking for Social Good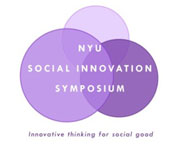 Date:
Friday, February 10, 2012
Time:
8:30am - 6:00pm
Location:
Henry Kaufman Management Center, 44 West 4th Street, Suite 6-70, New York, NY 10012
The second annual Social Innovation Symposium - a collaboration between the Social Enterprise Association (SEA) at Stern, Bridge at Wagner and LSEA at NYU Law - will be themed "Innovative Thinking for Social Good." The event will feature a keynote address from Jonathan Greenblatt, director of The White House office of social innovation & civic engagement. Prior to his work at The White House, Mr. Greenblatt was an accomplished social entrepreneur founding Ethos Water and GOOD Magazine. The symposium will also offer interactive sessions, panel discussions and networking opportunities.
For more information or to register, please visit the conference
website
.