Business and Policy Leader Events
American Express President Edward Gilligan & Former Thomson Reuters CEO Thomas Glocer Sound Off on How Technology is Disrupting the Finance Industry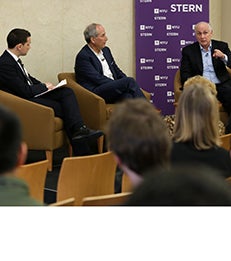 NYU Stern alumnus Edward Gilligan (BS '82), president of American Express, and Thomas Glocer, former CEO of Thomson Reuters, joined a discussion entitled, "The Changing Face of Wall Street: How Technology is Disrupting the Finance Industry," this April. The second installment of NYU Stern's speaker series on the future of finance, the event was moderated by Francesco Guerrera, money and investing editor at
The Wall Street Journal
, and hosted by Dean
Peter Henry
and William R. Berkley (BS '66), chair-designate of NYU's Board of Trustees and chairman of NYU Stern's Board of Overseers.
Gilligan and Glocer examined a number of challenges and opportunities facing the financial services industry in light of the rise of technology, including mobile payment systems, peer-to-peer lending, cybercrime and digital currency. Gilligan mentioned American Express' foray into the mobile payment space with Apple Pay: "Similar to Apple, American Express is obsessed with customer experience and controls the entire business eco-system, so we're excited for this opportunity to leverage the strengths of our business model as well as technology to create a better customer experience."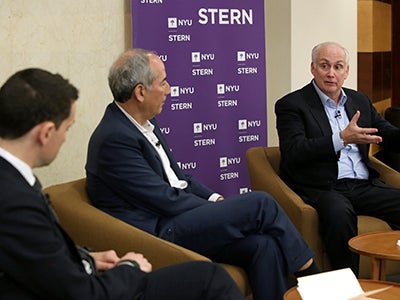 Switching gears to look at today's lending markets, Glocer argued that the quality of financial lending has never been better, pointing to significant growth in the peer-to-peer market. "Hedge funds, family offices and large investors are now participating in lending pools," he explained. "These peer-to-peer models provide a new choice for consumers, are more scalable than brick-and-mortar banks, and the returns are good."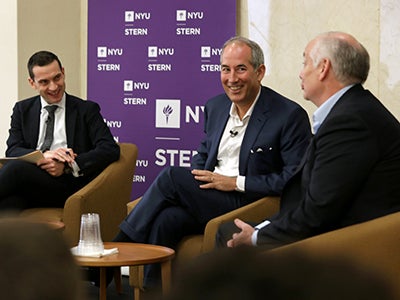 Before taking questions from the audience, both Gilligan and Glocer shared their concerns about cyber crime. "Every day, there are hundreds of attempts on American Express, and we've become very skilled at detecting issues early on and shutting them down," said Gilligan. According to Glocer, there are only two types of companies in the world: "Those that have been penetrated and know it, and those that have been penetrated and don't know it." He also urged students in the room to consider pursuing studies in cyber security, pointing to exciting career opportunities.