Research Center Events
Tensie Whelan Speaks at 2017 Edelman Trust Barometer Davos Preview Panel, Stockholm School of Economics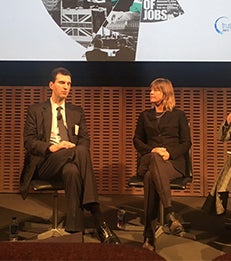 Over the last month, NYU Stern Professor
Tensie Whelan
made a pair of speaking stops to discuss sustainability in business.
On January 13, Whelan, who serves as the Director of the NYU Stern
Center for Sustainable Business
, participated in a panel discussion at the 2017 Edelman Trust Barometer Davos Preview event in New York City. The discussion covered topics such as the rise of populism, the lack of trust for institution and the implications for business leaders. More information on the Edelman Trust Barometer can be found
here
.
Whelan also traveled to Sweden in February, holding a full-day session on February 3 at the Stockholm School of Economics for students enrolled in the school's Global Challenges Program. The session focused on corporate sustainability and methods used to find innovative solutions to sustainability challenges. During her travels, she also participated in a seminar in which she presented her co-authored research titled "The Comprehensive Business Case for Sustainability," which was featured in the
Harvard Business Review
.