Research Center Events
TRIUM Discussion on Entrepreneurial Projects and Capstone Stories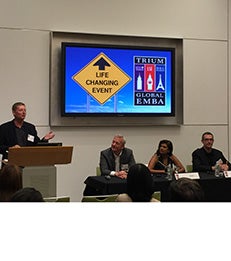 More than 20
TRIUM Global Executive MBA
program alumni and students gathered at NYU Stern on Wednesday, October 15, to hear about and discuss their entrepreneurial projects and
Global Incubator Capstone
stories. The Capstone is an integral part of the TRIUM program.
A panel discussion was moderated by TRIUM Capstone Co-director Chris Burggraeve (TRIUM '05). The panelists included Arend De Jong (TRIUM '10), co-founder, Renewthink; Nabila Feroze (TRIUM '010), founder, Roze; and Nate Brochin (TRIUM '05), digital brand strategist, Screaming Garlic, Inc.
The evening ended with a cocktail reception.