Press Releases
Amsterdam Institute of Finance & NYU Stern Partner to Launch the Executive M.S. in Risk Management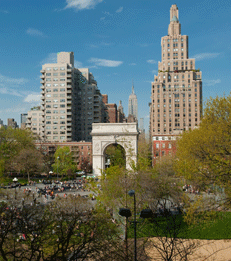 Amsterdam Institute of Finance (AIF) and New York University Stern School of Business (NYU Stern) are partnering to launch the Executive Master of Science in Risk Management, an innovative, global executive degree program in risk management. This alliance connects two of the world's financial centers and provides a firm response to the current financial turmoil. The Executive Master of Science in Risk Management will offer executives from around the world the opportunity to obtain the latest knowledge in risk management and serve to elevate the risk management function to a more integrated and strategic role within the organization.
The new degree program has been designed for risk managers in financial firms and those who have this function in other companies, with several places reserved for qualified people who aspire to a career in risk management. The one-year program begins in April 2009. The program consists of 10 modules: six in Amsterdam (three-day sessions) and four consecutive modules in New York (a two-week intensive period during summer). The modular format allows executives to continue their professional careers while earning a degree.
Both theory and practice will be covered in courses taught by professors who are not only leaders in the field of risk management but who also have practical experience from their advisory and consulting work, ensuring that the masters program will be relevant as well as rigorous. The degree will be granted by New York University, and graduates will be considered alumni of both institutions.
Amsterdam Institute of Finance
Amsterdam Institute of Finance (AIF) is a self-supporting, not-for-profit foundation, specialized in providing high-level financial training for executives. AIF's status as an independent institution enables faculty to be selected from internationally renowned business schools such as INSEAD, IMD, Harvard, Wharton and NYU. Participants in AIF courses have the advantage of learning from the world's leading experts who have significant teaching as well as consulting experience. Established in 1990 as an initiative of the Dutch financial community, AIF has built a strong presence worldwide for its open enrollment programs as well as its custom-made, in-company programs. Since its inception, AIF has trained professionals in more than 1000 organizations in over 100 countries.
In addition to partnering with NYU Stern, AIF is also allied with CFA Institute. CFA Institute is the premier global certifying body for financial professionals. In 2009 AIF will hold programs in partnership with CFA Institute in Abu Dhabi, Dubai, Johannesburg, London, Riyadh, Shanghai and Singapore.
Commentary from Amsterdam Institute of Finance and NYU Stern School of Business
Dr. Onno Ruding, Chairman of the Center for European Policy Studies, Chairman of AIF Advisory Council and former Minister of Finance, the Netherlands:
"Appropriate risk management is critical to successful finance managers in both financial and non-financial firms. This requires training as well as practical experience. I am delighted that this new partnership between NYU Stern and AIF provides a unique opportunity for top-quality international and professional education in risk management."
Dr. Josef Ackermann, Chairman of the Board of Directors of the Institute of International Finance, as quoted in an Address to the National Press Club, given on July 17, 2008:
"One of the most important tasks of senior management and the board in the risk management area is to ensure that a robust risk culture pervades throughout the firm and that, against this backdrop, a well-understood risk appetite is articulated."
Thomas F. Cooley
, Dean, New York University Stern School of Business:
"The alliance of NYU Stern and the Amsterdam Institute of Finance brings together some of the best academic thinkers in the world of finance. Taught by some of NYU Stern's key finance faculty and top faculty in Europe, this new masters program fills a critical need for managers who are well-grounded in modern finance and solidly trained in risk management."
Ingo Walter
, Seymour Milstein Professor of Finance, Corporate Governance and Ethics at NYU Stern, and Program Director of the Executive Master of Science in Risk Management:
"The events of the last 18 months have clearly demonstrated a continuing need for the expanded training of professionals in the field of risk management. This new Executive Master of Science in Risk Management has been designed to produce a new breed of risk managers, equipped with the tools to assure that their firms fully understand and are appropriately rewarded for assuming risk exposures."