Press Releases
Professor of Finance Jeffrey Wurgler Named a 2010 Rising Star in Finance
Nomura Professor of Finance Jeffrey Wurgler received a 2010 Rising Star in Finance Award.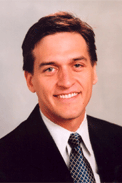 The award was presented at a conference at the Rochester Institute of Technology held in June.
The award is given to young scholars who have made a significant contribution to the field of finance and whose impact is expected to grow. A committee of distinguished professors from leading universities selected this year's four winners. The award is given every other year; Professor of
Finance
Viral Acharya
was a winner in 2008.
The other award winners this year were Christopher Hennessey, London Business School; Philip Strahan, Boston College; and Murillo Campello, University of Illinois.
Professor Wurgler
joined Stern in 2001. His research and teaching interests include corporate finance and behavioral finance.