Research Center Events
The Volatility Institute - Macro Financial Modeling Group Winter 2016 Meeting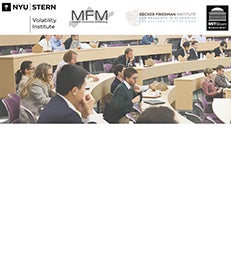 Date
: Thursday, January 28 and Friday, January 29, 2016
Time
: January 28: 8:30 AM - 4:30 PM and
January 29: 8:30 AM - 3:00 PM
Location
: NYU Stern, New York, NY 10012
Registration required
The financial crisis of 2007–2009 revealed serious gaps in our ability to define, measure, and manage financial sector activities that pose risks to the macroeconomy as a whole. Current macroeconomic models typically used for quantitative and empirical investigations are not well designed to account for important financial sector influences on the aggregate economy. To address these deficiencies, the Becker Friedman Institute has launched an initiative to develop and assess more ambitious macroeconomic models. Building new models is a long-term venture that requires a broad-based, collective perspective. This three-year initiative establishes the Macro Financial Modeling (MFM) Group, a network of prominent researchers working together to develop the next generation of policy tools. These enhanced models will be rich enough to study the impact of shocks that are either initially large or build endogenously over time.
The Macro Financial Modeling (MFM) Group Winter 2016 Meeting is co-sponsored and hosted by the Volatility Institute at the NYU Stern School of Business. Scholars, central bankers and practitioners will discuss interactions between credit risks of financial sectors and their respective sovereigns.
Please visit the
MFM website
to view the full conference schedule.