Tales in Possible
Access Possible
As part of the "Ops in NYC" class taught by Professors Harry Chernoff and Kristen Sosulski, students visited Fresh Direct and other NYC businesses to learn real-world operations management.
This class offered a rare opportunity to hear first-hand from senior executives, who actually spent up to three hours of their time with us --MBA Aditya Basu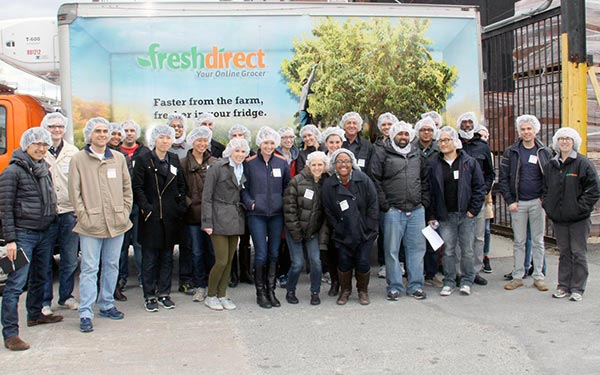 "New York City is the classroom in this course," explains NYU Stern full-time MBA student Aditya Basu. "Ops in NYC" is an experiential section of the core Operations Management course, open to full-time MBA students. The instructors, Professors
Harry Chernoff
and
Kristen Sosulski
, use a "flipped classroom" model: students participate in online activities and review brief video lectures at home, and during class time they experience operations in practice through site visits. Last semester, students visited Whole Foods, the Maher Container Terminal in Port Elizabeth, Jet Blue Airways, design firm Control Group, SoHo jean manufacturing facility 3x1, the Taxi and Limousine Commission of NYC, a condo conversion site on Hudson Street, online grocer Fresh Direct, Sylvester Manor Educational Farm, and Loreley Restaurant and Biergarten.
"Each site focused on a different aspect of operations," Aditya describes. "At Jet Blue, the emphasis was on scheduling, for example, while at 3x1, it was on inventory. Each topic matched to a different company, and we saw how organizations are making actual adjustments day-to-day. We saw how everything ties together in the real, complex world."
"I'm a hands-on learner," says Aditya's classmate Risa Kotek. "This class was perfect for my learning style. As a future brand manager, I'll be overseeing so many parts of the process, from advertising and marketing to operations and supply chain management. This class showed me how operations fits within the larger business. Having been on an in-depth visit to Maher Container Terminal, I now have a better understanding of why goods take a certain amount of time to ship, for example. Similarly, it was eye-opening to hear from Fresh Direct's VP of delivery service operations and the senior directors of transportation logistics and plant operations about all of the moving parts they each must account for. The complexity of coordinating different departments in a company, as well as running an effective assembly line, became real and relatable to me."
"I took this class because I wanted to see operations from more of a strategic aspect," Aditya says. "The fact is, no matter which industry you're in, you have resources that have to be managed, and your strategy is only as successful as your operations. In this class, we took the theory and put it into practice in the real world."
"The access was unparalleled," Risa adds. "Sometimes it takes an educational institution to open up companies for visits, and it's a huge benefit for students." Aditya agrees: "This class offered a rare opportunity to hear first-hand from senior executives, who actually spent up to three hours of their time with us. We didn't get all the answers from them; we learned to think more broadly and ask the right questions."