Tales in Possible
Connect Possible
Three Stern MBA students leverage their unique backgrounds and the help of their classmates to launch Threadmatcher, a social media site with a focus on fashion.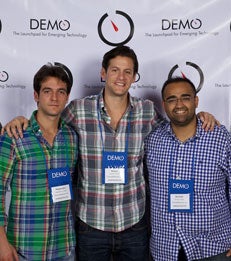 The exposure we had meeting new people through Stern created a pathway towards starting our new venture. – Kevin St. John
"We want to become the ultimate personalized shopping experience where you can do everything in one place," MBA student Alejandro Chahin says of
Threadmatcher
, a venture that he started with fellow NYU Stern MBA students Kevin St. John and Amrish Singh. "Think Pandora meets Pinterest for online clothing shopping," he says. Kevin explains, "We help users create wish lists of the clothing they love from anywhere on the internet using our bookmark tool. Second, we help users get relevant recommendations by following the wish lists of others who share a similar style. Last, we help users save money by identifying the right time to buy through our price drop alerts."
The students met at Stern and came up with the idea for Threadmatcher during their first semester in fall 2011. With a combination of backgrounds and skill – Alejandro has experience in the fashion business and operations, Kevin is well-versed in finance and sales, and Amrish has a background in consulting and software development – they bounced around several ideas for ventures. When they came up with Threadmatcher, it was an "aha moment when we all said we could use a tool like that," recalls Amrish. As they began to work on their project, they leveraged the knowledge and experience of their Stern classmates. "The exposure we had meeting new people through Stern created a pathway towards starting our new venture," Kevin says. "We tested the first early version of the site on friends and classmates during summer 2012, and implemented much of their feedback," he recalls. Fellow MBA student Wyatt Rockefeller, who is in the
MBA/MFA dual degree program
(a partnership between NYU Stern and the Kanbar Institute of Film & Television at the Tisch School of the Arts), also developed the idea for and directed a video promotion for the venture, with the help of some additional classmates. (Watch the video below.) "The help with the promotional video is just one example on how fortunate we have been in belonging to this collaborative community," says Alejandro.
Alejandro, Kevin and Amrish are now ready for the next step: "Our monetization ideas are clear and we are now looking for seed funding and to hire more people," says Amrish. "With more capital, we will invest in customer acquisition, expand search functionality and improve price drop alerts. We will be able to achieve the full vision we hope to become."