Tales in Possible
Disrupt Possible - The Affordable Care Act (ACA): A Disruptive Innovation
Graduate Students from NYU Stern, NYU Wagner & NYU School of Medicine hosted a conversation on the Affordable Care Act with Cleveland Clinic CEO Dr. Delos Cosgrove.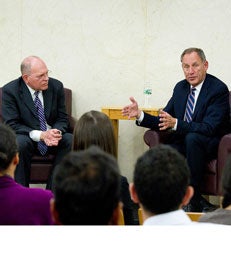 We're now at a period of time in the US when things are happening at an incredible pace.
On April 9th, Dr.
Delos Cosgrove
, CEO of the Cleveland Clinic, delivered a presentation followed by a fireside chat with NYU Wagner Professor
John Donnellan
about how the Patient Protection and Affordable Care Act (PPACA) is disrupting the field of healthcare. Dean
Peter Henry
provided welcoming remarks to the 150 NYU Stern, NYU Wagner and NYU School of Medicine students who attended the event.
"We're now at a period of time in the US when things are happening at an incredible pace," Dr. Cosgrove noted in his presentation. He discussed risks to the industry such as physician shortages and decreasing NIH funding, as well as opportunities such as big data, the promise of genetics and personalized medicine, and a new focus on efficiency.
During the fireside chat, Professor Donnellan aimed his questions at the intersection of healthcare reform and business. He noted, "Throughout my life, I've seen healthcare change dramatically. It's changed what we can do, but I don't know that the business model has changed." Dr. Cosgrove described how changes to the business model are beginning to happen, as the system moves from paying doctors for getting patients into hospitals to paying doctors for keeping patients out of hospitals. He outlined the broad effects of the PPACA, asserting, "This may be the most disruptive change that's happened in the US since the New Deal. … and most people don't understand the magnitude of the change."
Dr. Cosgrove also discussed how healthcare costs can decrease by either increasing efficiencies or keeping people healthier, and he noted that the PPACA doesn't include any measures that encourage people to improve or take control of their health. Another concern of his was, "Are we going to be able to be nimble enough and have enough alacrity to address the unintended consequences of the Affordable Care Act?"
This event was hosted by the Stern Healthcare Association as a part of the NYU Stern Office of Student Engagement's Signature Series, in conjunction with NYU Wagner and the NYU School of Medicine.