Tales in Possible
Expand Possible
Nobel Laureate and NYU Stern Professor Robert Engle spoke to MS in Risk Management students and alumni on his research and future global collaborations with the NYU Stern Volatility Institute.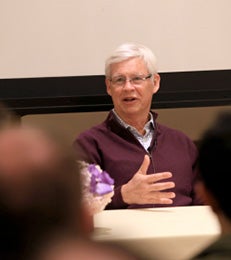 On November 7,
MS in Risk Management
Academic Director
Ingo Walter
and Nobel Laureate and NYU Stern Professor
Robert Engle
discussed Professor Engle's research with the NYU Stern
Volatility Laboratory
(V-Lab) and the global outlook of his measures.
Professor Engle spoke about recent market volatility, the results of European banking stress tests and volatility in the Chinese economy. He noted that the
Volatility Institute
is in the process of opening a second location in China. "The idea is to create a global research community," he said, through technology platforms such as the V-Lab.
Professor Engle also stated that having an "impact on application to firms and regulators is a measure of success."