Tales in Possible
Govern Possible
Richard Thomas, newly elected mayor of Mt. Vernon, NY, and recent graduate from Stern's Executive MBA program, draws on his business acumen to address local government challenges.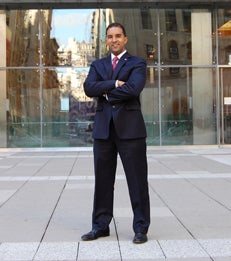 At Stern, I was also amazed at the resilience and supportive nature of my fellow MBAs, who helped one another through job changes, births and other significant life events.
Memorial Field – once the home of local football games and now the site of graffiti and illegal dumping – is both a source of disappointment and inspiration for one Mt. Vernon native.
For nearly six years, Rich Thomas (BA '04, MBA '16) watched from the sidelines as plans for a multi-million-dollar rehab of Memorial Field languished amid speculation over OSHA, worker safety and environmental violations. In light of the town's slow decline, Rich was faced with an ultimatum from his wife – run against the incumbent mayor to effect change in Mt. Vernon or move the family. "I grew up there and knew it could be better," he recalls.
Prior to his mayoral race, Rich worked as an economist at PricewaterhouseCoopers and served as regional director in Governor Paterson's administration. Returning to NYU, his undergraduate college alma mater, for his MBA was an easy choice, according to Rich. "In my role as sitting city council member and executive director of the energy group, I was looking to add some business acumen to my growing expertise in energy and infrastructure," he explains. "Stern's proximity to Mt. Vernon, and my fond memories of NYU, where I met my wife, compelled me to apply and see if NYU would take me back."
A year into Stern's
Executive MBA program
, Rich announced his candidacy for mayor. "What I learned in class helped me design a high-performing team of experts to support my campaign against a deeply entrenched incumbent," explains Rich. He also points to time management and financial analysis – two important skills that MBA students hone in the program – as key to his success. "Over the course of the campaign and the debates, my ability to interpret information, both qualitative and quantitative, was invaluable," he says.
Now, as the newly elected mayor of Mt. Vernon, Rich expects to draw heavily on his b-school knowledge and network. "Faced with the city's operational balance sheet, I'm reflecting on Professor
Anjolein Schmeits
' class on valuation, where we learned how to scrutinize P&L financial statements," he explains. "Similarly, the lessons from Professor
R. Kabiliswaran
's class on power and politics will be crucial in navigating Mt. Vernon's fractured community and inspiring city employees to help support my objectives."
Stern's network of government officials is another important resource that Rich intends to tap. "I know three MBA alumni with firsthand experience in the mayoral seat – Mick Cornett, mayor of Oklahoma City, OK; William Healy, former mayor of Canton, OH; and Steve Fulop, mayor of Jersey City, NJ – and I feel lucky to have their support."
Reflecting on his experience in the Executive MBA program, Rich was impressed by the diverse group of students in his cohort. "Being able to glean expertise from classmates who are captains of their industry is a huge benefit," he says. "At Stern, I was also amazed at the resilience and supportive nature of my fellow MBAs, who helped one another through job changes, births and other significant life events."
"Running for mayor was 'Mission Impossible,'" recalls Rich. "But having a mindset of winning, along with the tools to manage people, analyze information and develop a strategic plan helped get me to this place. And I'm excited to apply what I've learned to shape policy and initiatives to help jumpstart Mt. Vernon's local economy."