Tales in Possible
Innovate Possible
MBA student Brian Shimmerlik transformed an ordinary experience into an innovative one with his idea to put high-tech vending machines into NYC cabs.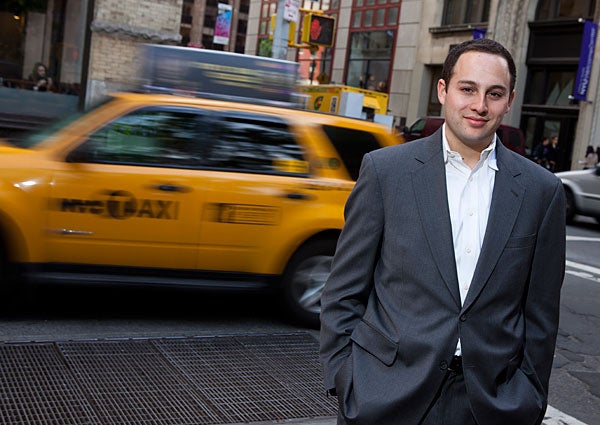 New York City taxi riders often talk on the phone or watch the local news on the cab's televisions, and thanks to an idea from first-year, full-time MBA student Brian Shimmerlik, soon they may be buying convenience items during their taxi ride as well.
Brian's company, TaxiTreats, was one of two winners of the New York City Economic Development Corporation's Next Idea Competition. Brian has designed a high-tech vending machine specifically to fit seamlessly into cabs. Driven by his entrepreneurial spirit and aware of the overwhelming success that current vendors have placing products, such as televisions, in cabs, Brian saw an opportunity to further innovate. "By entering the taxi, passengers demonstrate that they value their time and convenience. I thought about how to design a product around the user and provide a benefit to a captive audience," he said.
Drawing on his business skills in areas including operations, finance and marketing, Brian developed a business plan for Taxi Treats and created a team with the skill set to execute. After presenting his plan at the NYC Next Idea contest finals, Brian was chosen from more than 270 applicants from 62 countries to secure the win, a monetary award and office space to work on his business. As a next step, he explained, "we've built a vending machine from scratch and will now continue to build out its functionality to show to the City and to the Taxi and Limousine Commission." Brian's hope is that if taxi vending machines succeed in New York City, he can place Taxi Treats in other cities in countries such as Brazil and India.
Brian credits his time at Stern and in New York City for the access to the resources and networks to bring his idea to reality. "There is an entire ecosystem of students, faculty, venture capitalists and technologists that have helped me think through and hone my product," he said. "There is not a better place than Stern and the City to learn how to launch a new business."