Tales in Possible
Consult Possible
Partnering with the Stern Consulting Corps (SCC), MBA student and Mexicue Co-founder Thomas Kelly received consulting expertise from a team of his fellow MBA students.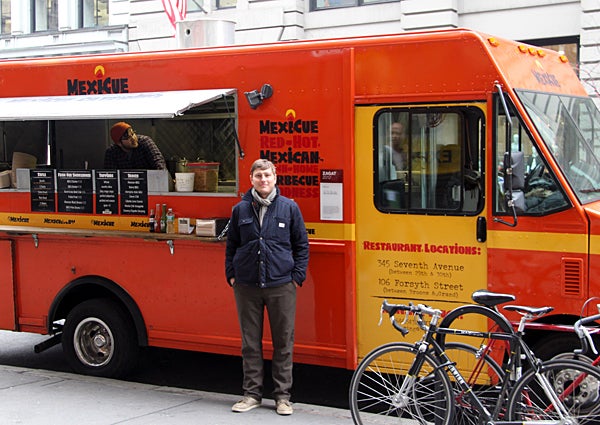 "Being at Stern and starting my own company has been really useful; it's been so valuable to learn concepts in my classes and immediately apply them in my day-to-day work," says Thomas Kelly, a part-time MBA student and co-founder and CMO/Director of Culinary Development of
Mexicue
. However, "when our team did not have the bandwidth to conduct some business development research we needed for a project in menu strategy," he called in help from the
Stern Consulting Corps
(SCC). The SCC connected Thomas with a team of five fellow MBA students who would work with him over a 10-week period providing valuable expertise and, in return, receive real-world consulting experience.
Thomas launched Mexicue along with co-founder & CEO Dave Schillace in the summer of 2010. Thomas's love of food had started a decade earlier while he was working in marketing by day and fine-dining restaurants by night. "I've always loved cooking and wanted to be involved in the food world," he describes, "but not with a fine-dining business model." He pursued an MBA to build his business knowledge as he was exploring his career options.
"In early 2010, I connected with a friend [Schillace] who had recently exited the corporate world to start an entrepreneurial venture," Thomas relays. The two decided to combine forces by opening a food truck that summer, branded "Mexicue" to connote the Mexican-barbeque fusion food they were selling ("it was the way I'd always cooked for myself at home," says Thomas). "Food trucks were getting a lot of buzz that year," he recalls, "and it was a great time to start."
Mexicue grew, expanding into catering and taking on a third partner, Julia Collins, hailing from Danny Meyer's Union Square Hospitality Group. In 2011, the business attracted outside capital and opened two fast-casual restaurants. The partners soon found they had more opportunities than time, and on the recommendation of a Stern alumnus, Thomas approached the SCC to ask for outside expertise.
Five students were assigned to Mexicue during the fall of 2012. They examined the product mix and some questions around menu strategy, as well as conducting competitive analysis. "The students' findings have provided an extremely important data point as we think about our larger strategic direction," says Thomas. As one example, "the students' evaluation of customer feedback highlighted some important trends for us to incorporate."
"I view this as a first step for getting involved with the SCC and look forward to working with more students in the future," says Thomas. For him, it represents an additional pillar of support from the Stern community: "The really wonderful professors focusing on entrepreneurship and early-stage companies, networking with other up-and-coming entrepreneurs – both fellow current students and alumni – and working with the SCC have all been extremely important to me in getting this venture off the ground."