Tales in Possible
Net Possible
New Langone MBA students marked the beginning of their Stern journey by attending a Knicks game as part of Langone LAB: Spring 2017 Orientation.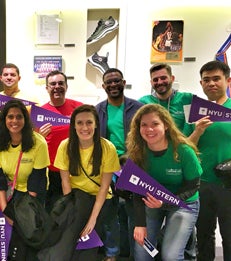 This program would give me an excellent chance to distinguish myself by learning useful skills to bring back to the workplace.
To kick off their first semester, incoming Langone Part-time MBA students arrived for
Langone LAB
, an orientation for Stern's working professional students. As part of the LAB experience, Stern's newest group of Langone MBAs lined up along Madison Square Garden's fan tunnel, where New York Knicks fans helped celebrate the beginning of their Stern journey. The game marked the conclusion of their orientation, in which they were welcomed by Dean
Peter Henry
, Dean of Students Conor Grennan, Stern administrators and more.
Throughout orientation, students had the opportunity to share why they chose Stern and what they hope to gain from the experience. As a key theme of LAB, they also reflected on their recent journey as an intersection of their personal and professional lives.
Newcomer Aaron Streza expressed excitement about the opportunity to acquire new skill sets. "While I already have a master's degree in russian and slavic studies, I felt an MBA from Stern would allow me to broaden my horizons." Fellow classmate Kate Scarbrough agreed, highlighting the lack of MBAs in the non-profit industry, "This program would give me an excellent chance to distinguish myself by learning useful skills to bring back to the workplace."
The new class walked away with valuable advice, including Dean Peter Henry and Dean of Students Conor Grennan's remarks on the importance of relying on one's peers throughout the MBA experience and beyond. They also witnessed how Stern can help establish a strong network of classmates, alumni, faculty and administrators for years to come. "I came to Stern to become a more well-rounded professional," Xiaobei Guo said. "This program will be challenging but ultimately rewarding."