Tales in Possible
Plan Possible
Five MBA students partnered with city officials in Hawassa, Ethiopia to develop a strategic plan to support rapid urbanization and ecotourism along its waterfront.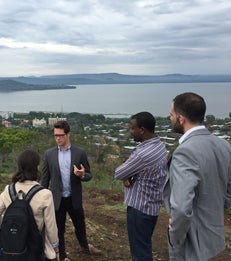 This really was a fantastic opportunity to flex the skills we've acquired in all of our classes here at Stern. -Ria Tobaccowala
What makes a good public space? How can a park stop the spread of pollutants? How might a lake spur sustainable economic growth?
These are not the typical questions one might encounter on a consulting project, but five Stern MBAs were uniquely equipped to propose a recommendation for a
Stern Signature Project
in Hawassa, Ethiopia this spring. Under the guidance of Professor
Paul Romer
,
Shlomo Angel
and
Patrick Lamson-Hall
of the
NYU Stern Urbanization Project
, the students – Sarada Anne, Jonathan Broch, Laura Capucilli, Patrick Carusone and Ria Tobaccowala – partnered with Hawassa city officials to produce a replicable spatial plan that would protect its natural resources from dangerous pollutants, develop open public space to support the local community and ecotourism initiatives, and bolster economic opportunity in the area.
"Hawassa is one of the fastest growing cities in Ethiopia, and its past, present and future are tied intricately to its namesake lake – Lake Hawassa – in the center of the city," Sarada explained. "As the city transitions from a rural to more industrial economy, we had a tremendous opportunity to demonstrate how business development and environmental sustainability can go hand-in-hand."
Building on the city's existing sustainability plan, the students researched four key factors affecting the area – tourism, environmental concerns, enhancements to infrastructure and shifting demographics – as well as best practices in urban planning. In keeping with Hawassa's values (including respect for both nature and local culture, and clean, green development), the students developed a strategic plan for an environmental buffer zone, which would protect the lake from increasing industrialization, and a commercial boulevard, which would increase access to the area and promote its economic potential. They then traveled to Ethiopia to conduct interviews with local experts, analyze field conditions and present their assessment and schematics for a productive waterfront to the mayor, Pewodros Gebiba.
"This really was a fantastic opportunity to flex the skills we've acquired in all of our classes here at Stern," Ria noted. "We relied on the rigorous research methods we've learned as well as the fundamentals of strategy, accounting, marketing and negotiation to solidify our recommendations."
"I learned so much about the role of universities in developing nations and what a collaboration between urban planners, business and public servants can achieve," Laura said. "This experience allowed me to better understand how to conduct business internationally in a way that taps into the expertise and skills of the city in which you're working."
Incorporating the feedback they received and the firsthand knowledge they gained while in Hawassa, the students developed recommendations to help the city prioritize project objections, outline phases for completion and lay the groundwork for international funding possibilities. This fall, they will serve as informational resources for the next team of MBAs, which will focus on a design for public-private partnerships and a development model that can be applied across Ethiopia.
"Stern students don't just come up with specific programs. They come up with methods," explained Patrick Lamson-Hall, a research scholar currently specializing in the Urban Expansion Initiative within the Urbanization Project. "With the help of these talented Stern students, city officials have an opportunity to realize the sustainability values they have outlined for their communities and create a model that can be replicated throughout the country."
In turn, the city has given these students an opportunity to transform as well. Ria recalled listening to Dean
Peter Henry
at
Launch
, Stern's full-time MBA orientation experience, as he spoke about the role business can play to make a positive impact on society. "This Signature Project felt like the right fit for me to turn this belief into a reality. It has been, by far, the most meaningful thing I have done at Stern."