Tales in Possible
Restore Possible
On October 2, William C. Dudley, president & CEO of the Federal Reserve Bank of New York, stressed the importance of restoring confidence in reference rates in a public speech at NYU Stern.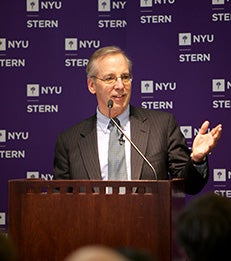 William C. Dudley, president and CEO of the Federal Reserve Bank of New York, spoke with more than 100 students, alumni, press and guests this fall as part of NYU Stern's Financial Policy Platform Speaker Series, hosted by Stern's
Salomon Center for the Study of Financial Institutions
.
Recent cases of market manipulation and false reporting of global reference rates, combined with the post-crisis decline in liquidity in interbank unsecured funding markets, have raised the question of confidence in the reliability and robustness of existing interbank benchmark interest rates, such as the London Interbank Offered Rate (LIBOR).
President Dudley maintained that the wide usage of such rates in the global financial system as benchmarks for a large volume and broad range of financial products and contracts makes restoring the robustness and integrity of the reference rate framework essential. He also discussed ongoing efforts to improve the structure and uses of reference rates and argued for the urgent need for financial institutions to reform their business cultures to promote more ethical behavior.
Read the speech on the
Federal Reserve Bank of New York's website
.
Watch it on
Bloomberg Businessweek
.