Tales in Possible
Value Possible
Langone MBA student Michael Schwartz, recently named to Forbes' "30 Under 30" list, reflects on the relationships that have led to his success.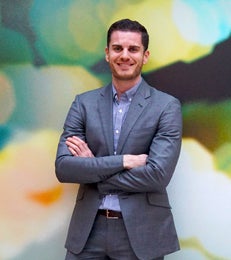 "Relationships matter, and I have been privileged to meet so many great individuals over the years. That's how I'm going to judge myself, by the memories I've made and the people I've met along the way."
When Michael Schwartz, a current student in Stern's
Langone Part-time MBA program in Westchester
, first learned he had been named to
Forbes
' "
30 Under 30: Marketing & Advertising
" list, he knew he had a few emails to send. After contacting his family, Michael wrote a note to everyone who had made an impact on his professional development – friends, colleagues, supervisors, advisors and classmates – to thank them for their roles in his achievements.
"Relationships matter, and I have been privileged to meet so many great individuals over the years. That's how I'm going to judge myself, by the memories I've made and the people I've met along the way."
At 29, Michael has a number of milestones to add to his list of pride points, including his current position as brand manager for Newcastle Brown Ale and Amstel and his soon-to-be title of Stern alumnus. In fact, his appreciation for strong relationships is one of the factors that led him to Stern's program in Westchester three years ago. "I was at a stage in my career where I knew I wouldn't be making a switch, but I also knew the marketing industry was changing quickly. I wanted to understand how to manage people, how to incorporate new ideas in my field and, more broadly, how to provide value where I can," he said.
As part of the Westchester cohort, he found a small, tight-knit community with a reciprocal relationship of learning and mentoring. "By talking to people outside the realm of consumer packaged goods, I could share my experiences but also learn what they have done and how that can apply to my work in brand management. Everyone here is willing to help everyone else."
Similarly, Michael's professors have taught him valuable skills that he now uses on a daily basis as a relatively young manager in a competitive field. For example, Professor
"Kabi" Kabaliswaran
's class, Power and Politics, has introduced him to a whole new repertoire of leadership styles and reinforced the importance of adapting to others' work styles to achieve a common goal.
Although he has enjoyed numerous professional successes so early in his career, Michael is no stranger to setbacks and the value that those, too, can have to help him learn and grow. For instance, he says, he grew up wanting to be a veterinarian – a decision that led him to become a vegetarian by the time he was eight. However, after struggling through his first year of college he decided he needed to course correct to a field more suited to his strengths and interests. Turning struggle into strategy, Michael completed his BBA program, participated in five formative internships over a three-year period and eventually secured his ideal first job in branding shortly after graduation.
Michael recently described himself as a "pensive pilot" – always thinking, always trying to reach new heights. Through the opportunities he has had and the support he has received from family, peers and professional mentors, he will approach each new rung of the ladder with the characteristic persistence and strategic thinking that have served him so well.
Stern's 2016 Graduate Convocation ceremony will hold a special significance for Michael, who never attended his undergraduate graduation. Upon acceptance to the Langone MBA program, he promised his mother he would walk to receive this degree, a celebration of all those who had helped him along the way to his achievements. Although Michael's mother passed away shortly after he began the program, he will walk across the stage this May, honoring another important relationship in his life with each step he takes.