Application Process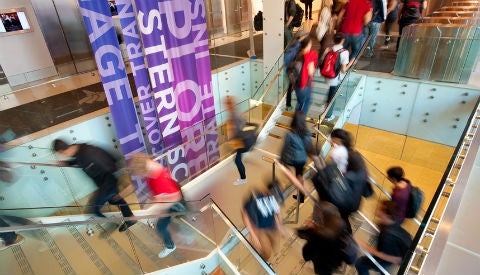 Exchange students must be nominated and accepted by their home universities in order to study at Stern. You should contact your school's exchange office for information on how to apply to the program. Once accepted, you will need to submit the following
six
documents to our office:
NYU Stern Exchange & Visa Application (will be used to process student visa paperwork) and checklist. Online submission of this application AND a PDF copy are required.

Note: As you progress through the online application, your responses will be saved every time you click the "Next" button. You may leave and return to the application (and change your responses) as many times as you want. However, after you officially submit your completed application you will not be able to make any further changes online. Any changes should be emailed to uc.international@stern.nyu.edu. Also, right after you submit your application you will have a chance to print it and/or save it as a PDF. Save your application as a PDF and email a copy to our office. Remember to do this immediately (and before you close the application window) because you will not be able to access, print or save it at a later date.
Financial documentation showing that you have adequate funds to provide for ALL expenses while in the United States. For Fall 2018 these expenses include $1,643 for required comprehensive health insurance and living expenses estimated at $8,000 per semester, for a minimum total of $9,643 USD. For Spring 2019 these expenses include $2,260 for required comprehensive health insurance (covers spring and summer) and living expenses estimated at $8,000 per semester, for a minimum total of $10,260 USD. If you are applying for a full year at NYU Stern you must prove adequate funds to cover expenses of $3,903 for a year of required comprehensive health insurance and living expenses estimated at $16,000 for a minimum total of $19,903 USD for the full year. Please note that health insurance costs are estimates and are subject to change.

Financial documentation (i.e. personal bank statements, loan documents, etc.) must be printed on letterhead, signed by a bank official, dated within the past 6 months and demonstrate possession of adequate funds to cover all costs. All financial documentation must be in English or have certified English translations attached to the original.

Note: If the finances that will be provided are in an account without the student's name on it then an additional Affidavit of Support document must be completed by the account owner and submitted with the other five required documents.
English language ability**:

If you are a student coming from one of our partner universities in Australia, the United Kingdom, Singapore, or from the Hong Kong University of Science & Technology you do not need to submit any proof of your English language ability.
If you are a student in a degree program taught entirely in English at your home university, please provide a signed and dated letter from your home university's international office on letterhead stating this fact and describing how your English language ability was determined for entrance into your home university's program.
If you do not fall into one of the two categories above, please provide your TOEFL or IELTS test scores with at least the minimum scores listed below:

7.5 on the IELTS test;
100 on the TOEFL iBT (Internet Based Test); OR
250 on the TOEFL Computer Based Test.

**In addition to being strong students academically, students who come to Stern on exchange must have excellent conversational skills and be prepared to engage in classroom and group discussions. Group work and in-class conversations are key aspects of course work at Stern and are sometimes included as a "participation" portion of a students grade. It is important that students are conversationally fluent so they can have the most successful and productive exchange semester possible.

One copy of your official or unofficial transcript in English that includes ALL university-level coursework, including the most recent semester
One scanned copy of your passport photo page showing a passport valid for at least six months after the last day of the semester you want to study at NYU Stern
One passport-sized digital photo of yourself (for our office use only)
Scan and email your documents to
uc.international@stern.nyu.edu
.