University of Melbourne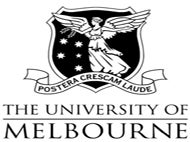 University of Melbourne Website

Virtual Tour of Melbourne
---
Program Overview
"The
University of Melbourne
is a dynamic research-driven community which offers a wealth of cultural, institutional and recreational opportunities for social interaction, leadership and personal development. It is an environment in which students will be challenged and supported to extend themselves intellectually and creatively. The University of Melbourne experience is the reason most students - past and present, international and Australian - choose to study here. It is our international leadership, combined with international ranking, a stimulating environment, creative approaches to learning, extensive student support and, impressive career outcomes that make studying at the University so exciting and rewarding. Campus life is exciting, vibrant and always diverse at the University of Melbourne. The campus community is made up of 40,000 students (8,000 international) and over 6,000 staff."- University of Melbourne
Fall Semester (semester 2): Mid-July - Early December
Spring Semester (semester 1): Mid-February - End of June
Note:
Dates are approximate and may be subject to change
In Australia most students attend a university in their own city. Consequently, Australian universities have limited accommodation on campus for students. Most local students either live at home or stay in private shared accommodation in the suburbs surrounding the university.
Melbourne Student Housing Services
helps exchange students locate housing.
Housing: AU$120-518/ week (approx)
Food: AU$80-100/ week (approx)
Books & Course Materials: AU$500-750/ semester (approx)
Transportation: AU$30/week (approx)
Personal Expenses: AU$1000-1500/semester (approx)
Overseas Health Insurance (required): AU$163/ semester (approx)
Note: AU = Australian Dollars
English