Speaker Series
Broadening Conversations About Business
The Stern Speaker Series strives to promote dialogue about the future of business. The series provides a unique platform to deepen conversations about timely events that are helping shape conversations across all industries by bringing business leaders from varied fields to campus for in-depth discussions about key challenges and opportunities. Past speakers include Eric Schmidt, Executive Chairman of Google Ideas; David Paterson, former governor of New York; and Andrew Serwer, managing editor of Fortune magazine. See below for additional Signature Series events.
May 6, 2013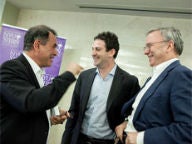 Professor Nouriel Roubini moderated a conversation with Eric Schmidt, executive chairman of Google, and Jared Cohen, director of Google Ideas, on their new book, The New Digital Age: Reshaping the Future of People, Nations and Business. Following the discussion, Schmidt and Cohen answered questions from MBA students and press in the audience. Read more.


April 23, 2013
Alessandro Piol and Maria Teresa Cometto, co-authors of Tech and the City: The Making of New York's Startup Community, spoke with MBA students on Tuesday, April 23.
Read more.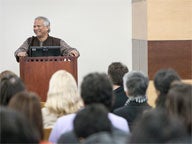 Nobel Laureate Muhammad Yunus, founder of Grameen Bank, addressed students from the NYU Stern School of Business and NYU Wagner School of Public Service during a special lecture and Q&A session. Professor Yunus shared his passion and vision for serving the poor through inclusive social businesses, including Grameen Bank, which serves millions of poor households in Bangladesh and around the world. He also emphasized that today's schools, organizations and initiatives need to produce fewer job seekers and more job creators.
Read more.
May 2, 2012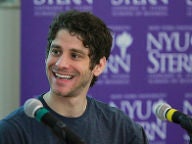 Fred Wilson of Union Square Ventures, Alexis Ohanian of Reddit and Billy Chasen of Turntable.fm participated in a panel discussion at NYU Stern to discuss some of the complex issues surrounding recent legislative proposals in the area of online intellectual property.
Read more.
December 5, 2011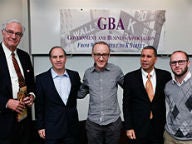 The panel, moderated by Vice Dean for Graduate Education Adam Brandenburger, featured Justin Wedes, New York City general assembly organizer for Occupy Wall Street; David Paterson, former governor of New York; Andrew Serwer, managing editor of Fortune magazine; and Roy Smith, Kenneth G. Langone professor of entrepreneurship and finance. The panelists reflected on the sentiment behind the Occupy Wall Street movement and assessed the movement's successes and challenges.
Read more.