Haitkin Lectures
The annual Haitkin Lecture is a forum dedicated to the examination of issues of integrity and ethics in business. It is a special opportunity that allows for the Stern students to listen to and ask questions of extraordinary individuals from academia, practice, and the press. The Haitkin Lecture was established through the generosity of Stern alumnus Jeffrey Haitkin, BS '68. Past lecterns include Kurt Eichenwald, author of Conspiracy of Fools; Nell Minow, founder of The Corporate Library, author and noted shareholder activist; Marc Rotenberg, Executive Director of the Electronic Privacy Information Center (EPIC); Thomas Ekeli, Investment Director in the asset management department of the Norwegian Ministry of Finance, and Rosanne Haggerty, Founder of Common Ground.

2017

Twelfth Annual Haitkin Lecture—April 19, 2017
Jane Mayer, investigative journalist and author of Dark Money: The Hidden History of the Billionaires, delivered the 12th annual Haitkin Lecture, hosted by NYU Stern's Business & Society Program. Mayer, who was the first female White House correspondent for The Wall Street Journal and has worked for the New Yorker since 1995, drew on her extensive political coverage and research to demonstrate in her new book how billionaires buy political influence in the United States.

Pointing to the activities of brothers Charles and David Koch, the sixth and seventh richest men in America, Mayer illustrated how conservatives have used money to influence politics. Referencing her book and examining campaign finance on a larger scale, Mayer explained that the Kochs have gained political power by making investments in three key areas: the campaigns of like-minded individuals, think tanks and grassroots groups such as Americans for Prosperity.

While presidents may come and go, Mayer says, the influence of big money is here to stay.

2016
Eleventh Annual Haitkin Lecture— April 19, 2016
Seema Saifee, staff attorney for the Innocence Project, delivered the 11th annual Haitkin Lecture, hosted by NYU Stern's Business & Society Program, to an audience of undergraduate Stern students. Saifee was joined by Andre Hatchett, who was recently exonerated after serving 25 years in prison for a crime he did not commit, and his brother, Jerry Hatchett.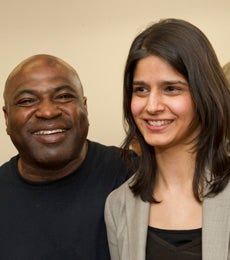 Saifee discussed the Innocence Project's mission to free the innocent using DNA evidence. She identified several key factors contributing to wrongful convictions: the lack of a process for policy reform in the criminal justice system, inaccurate eyewitness identifications, false confessions, ineffective counsel and jailhouse witnesses seeking leniency. "It is frightening how easy it is to convict an innocent person in this country," especially if that person doesn't have the financial resources to hire an effective attorney, she explained.

Working in partnership with the Conviction Integrity Unit in the Kings County District Attorney's office, the Innocence Project took on Andre Hatchett's case, which was one of 10,000 requests for assistance that the organization receives each year. Hatchett's first defense attorney was deemed ineffective by the trial judge, and his second defense attorney, like his first, failed to present Hatchett's medical records showing that, due to a leg and throat injury at the time, he was physically incapable of committing the crime.

Hatchett maintained his innocence throughout his time in prison. He was offered plea deals in exchange for serving as little as 4-8 years, but he refused to plead guilty to a crime he did not commit. His incarceration devastated his family; over the course of his incarceration, Hatchett lost his mother, brother, father and son.

Jerry Hatchett, Andre's brother, who supported him throughout his incarceration, underscored the impact that the ordeal had on their family. "When you don't have the means and the know-how to help somebody, it hurts," he remarked. Though Jerry lacked the funds to hire a better attorney, he often played the lottery, hoping to win enough money to free his brother. "We don't know lawyers. No one in our family had ever been in jail." Jerry added that his young son is considering becoming a lawyer. "You have to get the right education so that what happened to your uncle won't happen to you," he advised.

2015
Tenth Annual Haitkin Lecture
Susan Crawford, professor at Yeshiva University's Benjamin Cardozo School of Law, visiting professor at Harvard Law School, contributor to Bloomberg View and Wired, and author of Captive Audience: The Telecom Industry and Monopoly Power in the New Guilded Age, delivered the 10th Annual Haitkin lecture, entitled "The Responsive City: Communications in Context." Hosted by NYU Stern's Business & Society Program, Crawford underscored the importance of making high-speed Internet access a universal, affordable resource for everyone in the United States.

Crawford warned that dozens of countries are surpassing the US in terms of speed and price of broadband Internet. She also underscored how Americans are paying some of the highest prices for lower-speed Internet access, depriving users of important services that are required to compete in today's global business markets. In addition to sharing her views on America's backward slide since the Internet revolution some 10 years ago, Crawford shared some of her own personal story, including her upbringing on the west coast and her family's passion for music. She also described her somewhat nonlinear career path, including a stint as special assistant to the president for science, technology and innovation policy during 2009, when she led the FCC transition team between the Bush and Obama administrations.
2014
Author Anita Raghavan Examines White Collar Crime at Ninth Annual Haitkin Lecture
Anita Raghavan, author of The Billionaire's Apprentice and contributor to The New York Times and Forbes, delivered the Ninth Annual Haitkin Lecture at NYU Stern this spring. Hosted by Stern's Business & Society Program, Raghavan's talk centered on "Rajat Gupta's American Dreams." One of the central characters in Raghavan's book, Gupta was an Indian-American businessman and philanthropist who served as the managing director of McKinsey & Company from 1994-2003 and was a board member of Goldman Sachs. Gupta was also convicted of insider trading charges and sentenced to prison and $5 million in fines in 2012.

She contrasted Gupta's story with that of her father's – an Indian-American, Princeton graduate who never wavered from his goals. Raghavan's father achieved success as a botanist and a successful author in the field. He also never changed houses.

Raghavan argued that the penalty for white collar crime should be prison time, saying that hefty fines aren't an effective deterrent for the ultra-wealthy. She also warned students in the audience, "Remember, if you break the law and get caught, the only person who gets hurt is you."
2011
Simon H. Johnson, Ronald A. Kurtz (1954) Professor of Entrepreneurship, Professor of Global Economics & Management, MIT Sloan School of Management Delivers Sixth Annual Haitkin Lecture
Prof. Johnson is the Ronald A. Kurtz (1954) Professor of Entrepreneurship at He is also a senior fellow at the Peterson Institute for International Economics in Washington, D.C., a co-founder of BaselineScenario.com (a much cited website on the global economy), and a member of the Congressional Budget Office's Panel of Economic Advisers. Prof. Johnson is a weekly contributor to NYT.com's Economix, has a monthly column with Project Syndicate that runs in publications around the world, and has published high impact opinion pieces recently in The Atlantic, The New Republic, BusinessWeek, Bloomberg, and The Financial Times, among other places. In January 2010, he joined The Huffington Post as contributing business editor.

Professor Johnson is the co-author, with James Kwak, of 13 Bankers: The Wall Street Takeover and The Next Financial Meltdown, a bestselling assessment of the dangers now posed by the US financial sector (published by Pantheon in March 2010).

In his roles as a professor, research fellow and author, Professor Johnson's speaking engagements include paid appearances before various business groups, including financial institutions and other companies, as well before other groups that may have a political agenda. He is not on the board of any company, does not currently serve as a consultant to anyone, and does not work as an expert witness or conduct sponsored research. His investment portfolio comprises cash and broadly diversified mutual funds; he does not trade stocks, bonds or derivatives actively.

From March 2007 through the end of August 2008, Prof. Johnson was the International Monetary Fund's Economic Counsellor (chief economist) and Director of its Research Department. He is a co-director of the NBER Africa Project, and works with non-profits and think tanks around the world.

2009
Rosanne Haggerty, Founder & President of Common Ground Delivers Fifth Annual Haitkin Lecture
Common Ground is a pioneer in the development of supportive housing and other research-based practices that end homelessness. Common Ground's network of well designed, affordable apartments linked to the services people need to maintain their housing, restore their health, and regain their economic independence has enabled individuals to overcome homelessness. Common Ground is widely viewed as one of the most successful and influential social entrepreneurship efforts. Its various
 projects have developed over 3,000 housing units targeted to at risk populations, and have helped over 4,000 homeless to secure a place to live and lead more productive lives. In recognition of her achievements, Rosanne Haggerty has been awarded both the Ashoka Fellowship and a MacArthur Foundation "genius grant." You can learn more about Common Ground at www.commonground.org
.

2008
Norwegian Finance Ministry's Thomas Ekeli Delivers Fourth Annual Haitkin Lecture
At the Fourth Annual Haitkin Lecture, economist Thomas Ekeli, an investment director in the asset management department of the Norwegian Ministry of Finance, shared his experience managing Norway's $400 billion petroleum fund. The fund is earmarked as the country's pension fund and represents 10 percent of the $4 trillion global market for sovereign wealth funds. As the only major fund of its kind with an independent Council On Ethics, it is an international model of transparency and principled investing. According to Ekeli, the fund was established to manage Norway's oil wealth wisely, now and for future generations. He noted that for many countries, great mineral wealth leads to corruption, political instability, and economic stagnation. He credits the fund's success to its strategic investment philosophy and ethics: The fund only invests abroad, buys small stakes in multiple companies as a universal investor, disallows geopolitics as a driver of investment decisions, and chooses investments based on good corporate governance and human rights, while screening out certain companies that its Council On Ethics deems ethically incompatible with its purpose and goals.

2007
Marc Rotenberg, Executive Director & Co-Founder of Electronic Privacy Information Center, Delivers Third Annual Haitkin Lecture on Google, Privacy, and Social Responsibility
Privacy? A slide featuring just this word in the font and primary colors of the ubiquitous Google brand served as the opening of Marc Rotenberg's social responsibility talk, in which he argued that Google's proposed merger with Internet advertising company DoubleClick gravely threatens consumer privacy. NYU Stern's Markets, Ethics, and Law program welcomed Rotenberg, executive director and co-founder of the public interest research group Electronic Privacy Information Center (EPIC), to campus last November to address students and alumni for the third annual Haitkin Lecture. The Haitkin Lecture is made possible through the generosity of alumnus Jeffrey Haitkin (BS '68), whose commitment to ethics has fostered this forum to analyze and debate issues of integrity in the practice of business.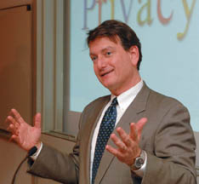 As a leading advocate for privacy rights who uses both Congressional testimony and media platforms to get out his message, Rotenberg has won the respect of regulators, the business community, and consumers. His mission to cover the issue from "soundbite to footnote" has safeguarded Rotenberg's and EPIC's authority as credible privacy experts. In turn, EPIC was a trailblazer in using the Internet to mobilize the public, having attained 50,000 signatures for a petition lobbying for freedom to use cryptography well before blogging had moved into the mainstream. He argued that the protection of privacy is the greatest social and political issue of our time.

Rotenberg called Google "the greatest privacy challenge" in light of the volume of private information it is able to collect based on people's Internet search histories. In April 2007, EPIC filed a complaint with the Federal Trade Commission (FTC) regarding Google's plans to acquire DoubleClick. With its use of digital tags called "cookies," DoubleClick has privileged access to users' preferences, such as their net-surfing patterns. Together, both firms are collecting an immense amount of data, but neither is being held accountable for how they will use it. The DoubleClick merger would give Google access to more information on the Internet activities of consumers than anyone else in the world. To hold Google accountable, Rotenberg, through EPIC, petitioned the FTC either to block the merger or to condition the deal on the establishment of meaningful privacy safeguards. (Editor's note: In December, the FTC approved the merger without conditions and has upheld that approval despite challenges from privacy groups, including EPIC.)

Through his public relations and advocacy work, Rotenberg has secured the support and action of the New York State Consumer Protection Board and European counterparts, and he has generated editorial coverage in major national and international papers that feature his and EPIC's point of view as a balance to Google's. Rotenberg pointed out the challenges of confronting a media company whose value trumps that of Time Warner, Disney, and News Corporation combined. The fact that Google both owns and uses its media reach to shape consumer perception adds to the complexity. His onsite demonstration searching the term "privacy" on Google-owned YouTube yielded results that placed a video produced by Google in top position, 10 pages ahead of a video attacking Google that had thousands more views, a measure that typically drives page positioning. The results left the audience with much to ponder.

2006
Corporate Governance Guru Nell Minow Delivers Second Annual Haitkin Lecture
NYU Stern's Markets, Ethics & Law Program hosted the second annual Haitkin Lecture on October 10 with Nell Minow, co-founder and editor of The Corporate Library. She has been recognized as "the queen of good corporate governance" by BusinessWeek online, one of the "30 most influential investors of 2002" by Smart Money Magazine and "one of the most feared champions of good corporate governance" said Dean Thomas Cooley, who welcomed her to campus. The Haitkin Lecture is made possible through the generosity of alumnus Jeffrey Haitkin, (BS '68), whose commitment to ethics has fostered this dynamic forum to analyze and debate issues of integrity in the practice of business.

A lawyer and widely respected critic of corporations, Minow illustrated story upon story of corporate malfeasance, exorbitant executive pay and irresponsible board behavior which caused one to posit: What don't businesses understand about the difference between right and wrong? Minow stressed that the essence of corporate governance is to make sure that the right questions get asked, particularly when someone else's money is involved. Questions didn't get asked by Tyco's board of directors when former CEO Kozlowski asked for an employment contract that specifically included language citing that a felony conviction was not grounds for termination—while he was under investigation for tax fraud. In the recent case of Hewlett Packard, labels like "pre-texting" masked behaviors such as illegal attainment of privacy information, a case-in-point of a board not asking the right questions before agreeing to an action. According to Minow, "it all boils down to the moment, not the structures," implying that there is no structural solution that will solve these types of problems because people always work around them.

Minow's career started in government and moved to the creation of a proxy advisory service in the late 1980s when shareholders were first beginning to flex their muscles on corporate issues of importance to them as investors. She went on to start an investment fund for companies she deemed were not living up to their potential and leveraged shareholder rights to foster change in the corporation. During her tenure, she invested in 22 companies, a number equal to the CEO replacements that took place under her watch. Guerilla tactics, such as placing an advertisement in The Wall Street Journal branding one firm's board as "non-performing assets," and faxing a controversial corporate employment contract to The New York Times, generated the desired disclosure and the ousting of both firm's CEOs.

Her passion for scrutinizing executive employment contracts placed her in her current position at The Corporate Library where she rates boards of directors the way rating agencies rate corporate bonds, intending to provide shareholders with added-value perspectives on the risks associated with their investments. Minow advocates that executive pay be tied to performance, and that if a firm is not getting return-on-investment for shareholders, then something isn't right. She cautioned students and alumni to beware of the "seduction of success"—no one wants to speak up when things are going well—and reminded them of the importance of asking good, analytical questions. In conclusion, Minow stated that "exorbitant CEO pay is bad for capitalism," leaving us with the question of why potential investors would want to invest in companies that don't have shareholder interests at heart.

2005
New York Times Reporter Kurt Eichenwald Delivers Inaugural Haitkin Lecture Series at NYU Stern
In October, New York Times reporter Kurt Eichenwald, who chronicled the demise of Enron in his best-selling book Conspiracy of Fools, delivered the first Haitkin Lecture. Hosted by NYU Stern's Market, Ethics and Law Program, the Haitkin Lecture aims to analyze issues of ethics and integrity in the practice of business. It is made possible through the generosity of alumnus Jeffrey Haitkin (BS '68).

Eichenwald, a two-time winner of the George Polk Award for Excellence in Journalism, outlined the business judgments that brought about Enron's epic failure and the moral lessons of those actions. "The vast majority of what people believe happened, didn't," said Eichenwald, who estimated that incompetence and bad management were two to three times more prevalent than illegal activity.

Eichenwald chronicled Enron's transition from a simple oil pipeline company to an energy trading company, and cited the positive publicity that management received in the press as a defining moment in the company's development. Enron's senior managers, he said, believed themselves to be so smart that they effectively abandoned the work. Their collective arrogance was a fundamental element in the company's collapse.

Having read all of Enron's board minutes and documents since 1992, Eichenwald spoke authoritatively about the many foolish decisions made at the company. Enron, he noted, invested $12 billion in an assortment of ill-advised ventures, including a liquid natural gas plant in India, retail distribution in Brazil, and an Internet broadband business. All these investments were badly planned, badly executed, and underpinned by poor analysis, which compounded the problems brought about by a series of complicated, conflict-ridden deals constructed by Chief Financial Officer Andrew Fastow.
"The question is 'How did Enron stay afloat so long?' not 'How did it collapse so quickly?'" Eichenwald said. After all, neither the company's business model, structure, or managerial mindset actually worked. Enron had "a poisoned culture of arrogance" that silenced those employees who questioned management.

Calling himself "a proponent of financial history," Eichenwald urged students to learn from the Enron debacle. "There are lessons each of you can learn," he said. He also cautioned, "We will be here again."