IOMS Groups:  Information Systems • Operations Management • Statistics
– About the department
The Department of Information, Operations & Management Sciences (IOMS) is home to faculty whose research style is analytical or technology-based.

The IOMS faculty have a well known reputation for excellence in research and teaching. Our research focuses in areas such as big data, crowdsourcing and innovation, online advertising, mining social media content and social networks, the sharing economy, revenue management and pricing, long memory time series and categorical data analysis.
Department Leadership
Alex Tuzhilin, Chair
Ed Melnick, Deputy Chair
We've launched the Tech@Stern Blog!
The Stern community shares insights on the latest tech/business topics.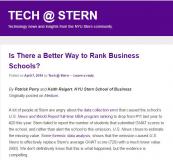 Latest Post:
'Is There a Better Way to Rank Business Schools?'
By Patrick Perry and
Keith Reigert, NYU Stern
Fall 2016 Course Highlights
Decision Models and Analytics: OPMG-GB.2350 (Grad) and MULT-UB.0007 (Undergrad)
In this hands-on course, learn how to model complex business problems and how to solve them using modern analytics tools.
Visit
http://sterndma.com/
for more information!
---
Interested in Programming?
MBAs:
Programming in Python
(INFO-GB.2335, TR 9-10:20am)
UGs:
Introduction to Programming & Data Science (INFO-UB.0023,
TR 11am-12:15pm and 2-3:15pm)