IOMS Groups:  Information Systems • Operations Management • Statistics
– About the department
The Department of Information, Operations & Management Sciences (IOMS) is home to faculty whose research style is analytical or technology-based.

The IOMS faculty have a well known reputation for excellence in research and teaching. Their research focuses in areas such as big data, outsourcing and offshoring, online advertising, mining social media content and social networks, revenue management and pricing, stochastic processing systems, long memory time series, categorical data analysis, and strategic analysis of global warming.
Quick Links

Seminar Schedules


Department Leadership
Alex Tuzhilin, Chair
Ed Melnick, Deputy Chair
Vasant Dhar, IS Group Head
René Caldentey, OM Group Head
Peter Lakner, Statistics Group Head
IOMS Faculty Highlight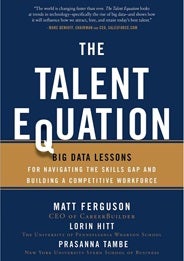 IS Professor
Prasanna Tambe
co-authors
The Talent Equation: Big Data Lessons for Navigating the Skills Gap and Building a Competitive Workforce
. The
new book
explores the potential for big data to transform human resources and investigate some of the most important issues affecting the labor market and workforce management today.