Research Center Events
Fall 2017 NYU Stern Ross Roundtable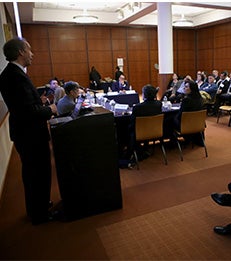 Date:
Monday, December 4, 2017
Location:
NYU Stern, New York, NY 10012
Experts from academia, financial industries, regulatory agencies, media and the legal and accounting professions will gather at NYU Stern on December 4 for a roundtable on "FASB Accounting Standards Update: Measurement of Credit Losses on Financial Instruments," hosted by the
Vincent C. Ross Institute of Accounting Research
.
The Roundtable will consist of brief presentations from a panel of experts to debate the key issues related to the proposed accounting standard.
For more information, please visit the center's
website
.