Business and Policy Leader Events
Author Anita Raghavan Examines White Collar Crime at Ninth Annual Haitkin Lecture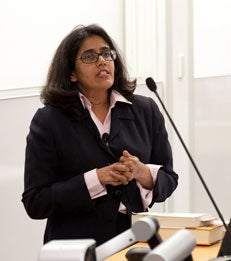 Remember, if you break the law and get caught, the only person who gets hurt is you.
Anita Raghavan, author of
The Billionaire's Apprentice
and contributor to
The New York Times
and
Forbes
, delivered the Ninth Annual Haitkin Lecture at NYU Stern this spring. Hosted by Stern's
Business & Society Program
, Raghavan's talk centered on "Rajat Gupta's American Dreams." One of the central characters in Raghavan's book, Gupta was an Indian-American businessman and philanthropist who served as the managing director of McKinsey & Company from 1994-2003 and was a board member of Goldman Sachs. Gupta was also convicted of insider trading charges and sentenced to prison and $5 million in fines in 2012.
She contrasted Gupta's story with that of her father's – an Indian-American, Princeton graduate who never wavered from his goals. Raghavan's father achieved success as a botanist and a successful author in the field. He also never changed houses.
Raghavan argued that the penalty for white collar crime should be prison time, saying that hefty fines aren't an effective deterrent for the ultra-wealthy. She also warned students in the audience, "Remember, if you break the law and get caught, the only person who gets hurt is you."
About the Haitkin Lecture:
The annual
Haitkin Lecture
is a forum dedicated to the examination of issues of integrity and ethics in business. It is a special opportunity that allows for Stern students to listen to and ask questions of extraordinary individuals from academia, practice and the press. The Haitkin Lecture was established through the generosity of Stern alumnus Jeffrey Haitkin, BS '68.
Past lecterns include Kurt Eichenwald, author of
Conspiracy of Fools
; Nell Minow, founder of The Corporate Library, author and noted shareholder activist; Marc Rotenberg, executive director of the Electronic Privacy Information Center (EPIC); Thomas Ekeli, investment director in the asset management department of the Norwegian Ministry of Finance; Rosanne Haggerty, founder of Common Ground; Simon Johnson author of
13 Bankers: The Wall Street Takeover
and the
Next Financial Meltdown
; Paul Volcker, former chairman of the Federal Reserve Board and Neil Barofsky, former inspector general of TARP (Troubled Asset Relief Program) and former federal prosecutor in the United States Attorney's Office, Southern District of New York.