Research Center Events
Ben Kaufman, CEO & Founder of Quirky.com, Talks New Product Development at Himelberg Speaker Series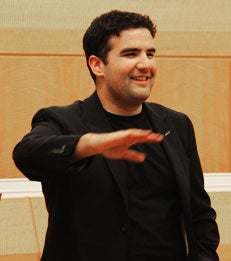 Budding entrepreneurs from across NYU convened in Stern's Paulson Auditorium to hear from Ben Kaufman, CEO and founder of
Quirky.com
, an industrial design company, located in New York City, that uses crowdsourcing to determine which products to design and manufacture. A self-proclaimed serial entrepreneur, Kaufman shared some lessons learned from the world of product development.
The event was presented by Stern's
Berkley Center for Entrepreneurship and Innovation
as part of the Himelberg Speaker Series.