Business and Policy Leader Events
Tom Bernstein, President & Co-Founder of Chelsea Piers, Joins MBA Students for Block Lunch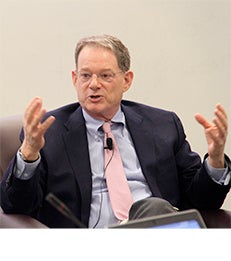 As an entrepreneur, be prepared for setbacks and failure.
Tom Bernstein, president and co-founder of Chelsea Piers, joined Dean
Peter Henry
and MBA students for NYU Stern's Block Lunch event series this spring. Bernstein described his career, including stints as a clerk for a federal judge, an entertainment lawyer, a principal of Silver Screen Management which financed 75 films with Walt Disney Company including
Beauty and the Beast
and
The Little Mermaid
, and a principal owner of the Texas Rangers Baseball Club.
Reflecting on the history behind Chelsea Piers, Bernstein described a number of challenges he confronted with the project along the way. Despite some of the early challenges, the sports and entertainment complex is thriving today and recently opened a new complex in Stamford, CT. According to Bernstein, Chelsea Piers is also considering further expansions into Long Island and Washington DC.
Bernstein shared several pieces of advice with students:
Be sure to surround yourself with smart, interesting people
Identify a big problem and solve a piece of that problem
As an entrepreneur, be prepared for setbacks and failure
There's no substitute for persistence
Stressing the importance of giving back, Bernstein described his work with the United States Holocaust Memorial Museum in DC, for which he was appointed chairman by President Obama, as well as Human Rights First and the Center for Civil and Human Rights.
Over the course of the semester, students will have an opportunity to hear candid perspectives from thought leaders in varied industries. Upcoming speakers for Spring 2014 include
Christopher Howard
, president of Hampden-Sydney College, and
Susan Jurevics
, CEO of Pottermore.