Research Center Events
Experts Convene for Workshop on "Darwin's Business: New Evolutionary Thinking"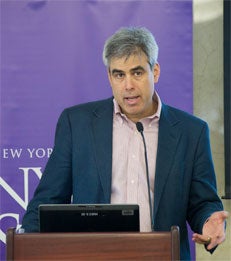 NYU Stern's
Business & Society Program Area
and the Evolution Institute co-hosted a workshop for a small working group of 20 participants and 25 audience members to assess the possible applications of evolutionary thinking – including gene-culture co-evolution, multi-level selection and the multiple paths by which humans became ultrasocial creatures – for business and business ethics.
Jonathan Haidt
, Thomas Cooley Professor of Ethical Leadership and author of
The Righteous Mind
, chaired the event. Other featured speakers from NYU Stern included
Paul Romer
, professor of
economics
and director of
The Urbanization Project,
and
Robert Frank
, visiting professor and author of
The Darwin Economy
and
Passions Within Reason
.
Watch videos from the event below: