Research Center Events
2012-2013 NYU Stern Entrepreneurs Challenge Kick-Off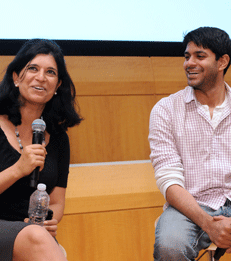 Date:
September 19
Time:
5:00pm – 7:00pm
Location:
NYU Stern, 40 West Fourth Street, Paulson Auditorium, UC-50, New York, NY 10012
Join hundreds of aspiring entrepreneurs from NYU's student, alumni and faculty communities in Paulson Auditorium to hear about this year's Entrepreneurs Challenge. During the official Kick-Off, attendees will hear about NYU Stern's Annual New Venture Competition and Social Venture Competition – both sponsored by Stern's
Berkley Center for Entrepreneurship & Innovation
– as well as NYU's Annual Technology Venture Competition, hosted by Stern's Berkley Center and NYU's Innovation Venture Fund.
The NYU Stern Entrepreneurs Challenge is the premier platform for identifying, nurturing and showcasing entrepreneurial talent at NYU. Lasting eight months, it provides aspiring entrepreneurs with frameworks, mentoring and financial support to stimulate new venture creation. Cash prizes totaling $200K will be awarded to the winners of this year's competitions.
Visit the Entrepreneurs Challenge
website
for details on eligibility, requirements and key dates associated with the three competitions.
Follow the Entrepreneurs Challenge on Twitter @NYUChallenge
Like the Entrepreneurs Challenge on Facebook at
www.facebook.com/nyuchallenge
More Info