Research Center Events
Center for Real Estate Finance Research: Executives-in-Residence Day
Be aware of what is happening at your company and in the field, and make moves while you are at the top of your game.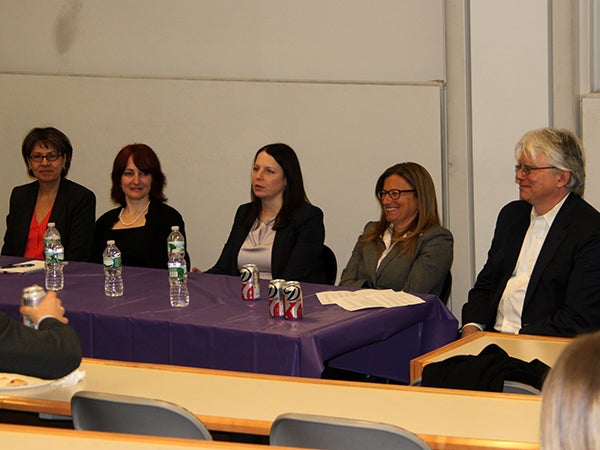 On February 25, the
Center for Real Estate Finance Research
partnered with two student organizations, the
Stern Real Estate Club
and
Stern Women in Business
, to host an Executives-in-Residence Day. Four women from WX New York Women Executives in Real Estate (Barbara Flusk, senior vice president of Financial Operations at Clarion Partners; Sylvia Gross (MBA '87), managing director of Real Estate Capital Partners; Christine Lattanzio, leader of PricewaterhouseCoopers' New York Metro Real Estate Tax practice and leader of the firm's National Real Estate Tax practice; and Robbin Orbison, chief financial officer of Silverstein Properties) provided one-on-one counseling sessions to students interested in a career in real estate. At lunchtime, they spoke to a group of more than 50 students as part of a panel discussion moderated by Professor
Edward Glickman
, executive director of the Center for Real Estate Finance.
During the panel discussion, the women shared their individual career paths and personal challenges, discussed changes they foresee in the real estate industry and commented on qualities companies are looking for in prospective employees. They shared several key pieces of career advice:
Maintain your network, which will remain the top source of opportunities throughout your career
Be aware of what is happening at your company and in the field, and make moves while you are at the top of your game
Understanding your product will always be critical; know the "nuts and bolts" of the business
Remain slightly insecure: think about what you don't know, and what you need to do to get to the next step in your career