Research Center Events
NYU Stern Leadership Development Hosts "Leadership in Crisis" Simulation
NYU Stern
Leadership Development
hosted its first "Leadership in Crisis" simulation for MBA students. Designed to prepare students for managing real-world crises, the full-day event was made possible with support from Alvarez & Marsal, co-founded by
Tony Alvarez
(MBA '76), who serves as the firm's CEO and is a member of NYU Stern's Board of Overseers.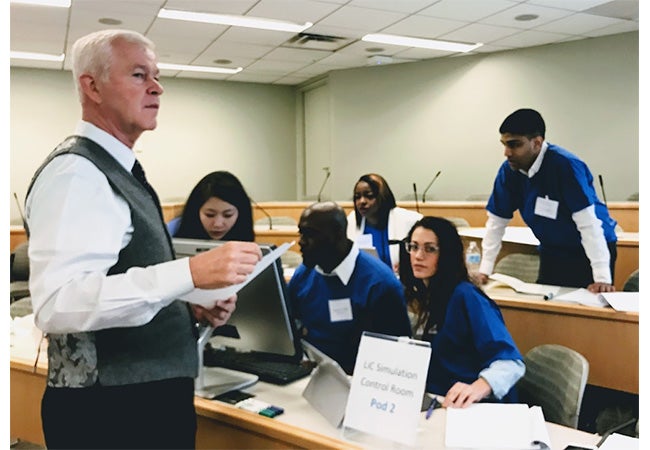 Dr. Larry Barton with students in the control room.
The participants, composed of full-time, part-time, and executive MBA students and alumni, were split into five teams, each tasked with navigating a crisis situation from the perspective of a business executive.
Dr. Larry Barton
, an expert in threat assessment, workplace violence prevention and mitigation, and faculty member at The FBI Academy and the U.S. Marshals Service and Connie Kim, senior director of Leadership Development at NYU Stern, led the exercise. José Vignon Valenzuela, senior security manager at Emerson Electric de Mexico, collaborated on the program as well.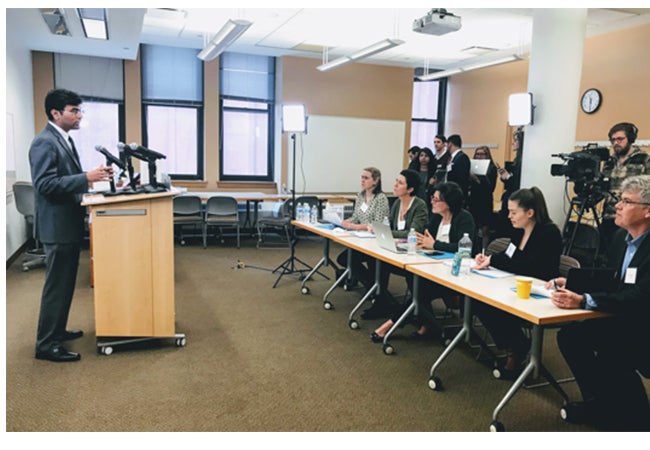 Judges in the newsroom watch the press conference.
A panel of business leaders served as judges, including:
Alvarez & Marsal's Senior Director Kurt Jonske, Managing Director Art Barrios, Managing Director Dhiren Rawal, Managing Director Brian Smith, Senior Director Sudeep Kanjilal, Senior Director Vasu Krishnamurthy, Director Preston Lewellen, and Director Bob Barmak; previous CEO of the Executive Compensation and Benefits Practice, Bud Schiff
Estée Lauder Companies Inc. Vice President of Talent Acquisition Jolie Chehadeh
Merck & Co. Regional Security Director Catherine Begley
Fox Residential Real Estate Salesperson Roni Cowan
MassMutual Life Insurance Co. & Cowan Financial Group Founder and President Howard Cowan
Balto Therapeutics LLC Co-Founder Tom Fernandez
Consultant John Wisdom and a team of NYU Stern staff members served as reporters in the simulation.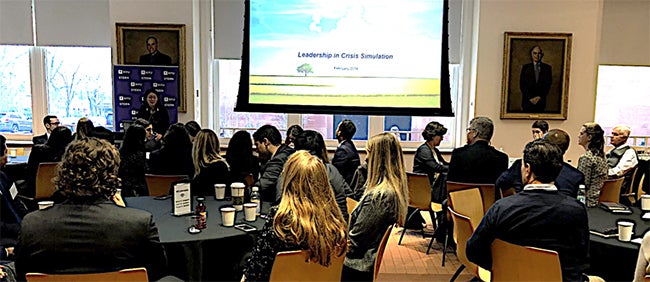 Welcome reception for all participants in the inaugural NYU Stern Leadership in Crisis Simulation.