Press Releases
Dean Peter Henry Relates Lessons from "TURNAROUND" to NYU Stern Students and Alumni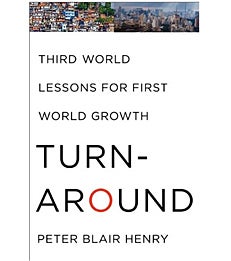 Peter Blair Henry
, dean of New York University Stern School of Business, today will share lessons from his new book,
Turnaround: Third World Lessons for First World Growth
, before an audience of more than 350 undergraduate and MBA students and alumni. Henry will be interviewed by Adam Davidson, co-founder and co-host of
Planet Money
, a co-production of National Public Radio and
This American Life
, and columnist for
The
New York Times
. The conversation with Henry is one in a series of interviews marking the publication of
Turnaround
on March 12, 2013. The event will be hosted by the NYU Stern
Center for Global Economy and Business
.
An economist who brings the perspective of his early childhood in Jamaica to his research into emerging markets, Henry argues that global prosperity now depends on whether advanced nations have the humility required to learn from the struggles—and successes—of the emerging markets they once lectured. Using stock market forecasts as an important complement to traditional measures of policy effectiveness, he illustrates turnaround lessons ranging from the "catch up" economics of China and the taming of inflation in Latin America to the outsized success of tiny Barbados as it shunned conventional methods and became a model for consensus building in tough times. Henry also demonstrates that prosperity is not a zero-sum game: what is good for emerging markets also benefits advanced economies. By following the path of discipline, clarity, and trust, the United States, Europe, and other advanced nations can create a more prosperous future—not only for their citizens but also for the global economy as a whole.
Before joining Stern as dean in 2010, Henry was professor of economics at Stanford University. In 2008, he led Barack Obama's Presidential Transition Team in its review of international lending agencies such as the IMF and World Bank. He is a member of the Board of the National Bureau of Economic Research, the Council on Foreign Relations, and Kraft Foods Group. Henry received his PhD in economics from MIT and Bachelor's degrees from Oxford University, where he was a Rhodes Scholar, and from the University of North Carolina, where he was a Morehead Scholar, a member of Phi Beta Kappa, and a finalist in the 1991 campus-wide slam dunk competition.
For inquiries about
Turnaround
, please contact contact Rimjhim Dey of Publisez PR at
rdey@publisez.com
and 917-514-3359 or Paul Sliker of Publisez PR at
psliker@publisez.com
and 401-413-6344.