Faculty News
Prof. Prasanna Tambe Awarded Three-year Grant from the Alfred P. Sloan Foundation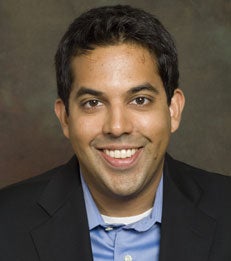 Prasanna ("Sonny") Tambe
, Assistant Professor of
Information, Operations and Management Sciences
, was awarded a $401,624 grant from the Alfred P. Sloan Foundation. The three-year grant is to provide funding for research on the "Economics of Information Technology Labor Markets Using Administrative Datasets."
The economics of the IT labor force has important implications for productivity, innovation and employment, but research in this area remains underdeveloped because IT labor market activity has historically been invisible to researchers. This project uses emerging sources of web-enabled data from online labor market intermediaries that capture the employment histories and job skills of a large fraction of the US information technology workforce. The specific aim of the project is to use these new data sources to improve our understanding of how the acquisition of new skills by IT workers affects a) productivity growth and b) IT labor outcomes, with an emphasis on the emerging big data workforce and on the economic health of regions.
The grant will support faculty research in a number of areas. It will be used to support the collection, management, and analysis of quantitative data and includes funding for a post-doctoral fellow.