Research Center Events
TIME Editor and Author Rana Foroohar Discusses her Book, "Makers and Takers: The Rise of Finance and the Fall of American Business"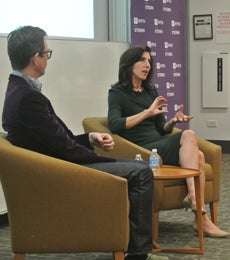 Stern's
Business & Society Program
, in partnership with the
Aspen Institute Business & Society Program
and the
Ford Foundation
, welcomed TIME Editor
Rana Foroohar
to discuss her new book,
Makers and Takers: The Rise of Finance and the Fall of American Business
. The conversation was moderated by Fusion Senior Editor
Felix Salmon
.
Foroohar shared several statistics to illustrate one of the key arguments in Makers and Takers, which is that the financial sector has become a hindrance to business. Over the past 40 years, the financial industry has tripled in size as a percentage of the overall economy, but only 15 percent of the money from the financial sector goes to business investments. While finance represents 4 percent of jobs, it accounts for ~25 percent of the economy's profits. Foroohar argues that the financial industry needs to be put back in service to businesses.
The root of the problem, Foroohar explains, is a dysfunctional political economy. As part of her research for
Makers and Takers
, she looked to policy discussions from the 1960s and 1970s, when government leaders were confronted with the problem of how to grow the economy. The result was the policies we have in place today, which incentivize debt and volatility. What we need, Foroohar explains is a rethink of the financial system and to incentivize investments that are socially productive.
A lively discussion with attendees from across industries followed, touching on shareholder value, labor, public companies, government regulation and homeownership.
Photo credit: Trisha King, Aspen Institute Business and Society Program