Research Center Events
Stern Students Learn to Chart U.S. Fiscal Policy through Interactive Training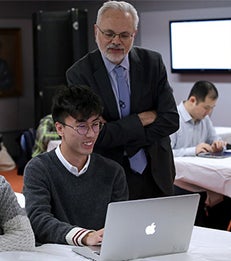 There's more than one way we can achieve sustainable debt levels. - David Wessel
Can the United States restrain federal spending, deficits and the debt ,while increasing economic opportunity? How do federal infrastructure subsidies affect the bottom line? To what extent can trimming tax credits contribute to a more balanced federal budget?
Economists and policymakers routinely debate the best paths toward fiscal sustainability, but achieving the optimal debt-to-GDP ratio is a question all Americans face when electing government officials and lobbying for public causes. A new game, developed in partnership by the Brookings Institute and the Woodrow Wilson Center, seeks to educate students, instructors and engaged citizens on the potential impact of fiscal policy decisions measured against broader federal goals related to such topics as inequality, national defense, entitlement spending and infrastructure investment.
This fall, NYU Stern's
Center for Global Economy and Business
hosted a conversation and interactive training session with David Wessel, director of the Hutchins Center on Fiscal and Monetary Policy at Brookings and one of The
Fiscal Ship's
co-creators. Wessel began the evening by framing some of the policy options that affect the path of U.S. federal debt and explaining why setting national priorities is the first step toward fiscal health. "There's more than one way we can achieve sustainable debt levels," he said, "but success depends upon our goals, choices, and the trade-offs we are willing to make to realize them."
Students, faculty and alumni then practiced the lessons Wessel shared by identifying their top three governing goals, representing a variety of common values, and aligning those goals with policy decisions that will increase revenue, decrease spending and ultimately reach a target debt ratio. Participants then discussed some of the key learnings from their broad spectrum of policy combinations.
"From the perspective of a student, this was an invaluable experience because you quickly realize that the fiscal health of the United States is actually very pertinent to anything you want to do in your career, regardless of the industry you are in," reflected Brett Kaiser, a dual-degree MBA/MPA student.
Following the interactive training, Professor
Kim Schoenholtz
, the Center's director, moderated a Q&A session, focused on the game's development, the policies described and reasons why some combinations are more or less difficult to achieve. Wessel also outlined how players can use the game, which will be updated to reflect ongoing developments in the political and economic arenas, to share their visions of the country's future through social media and informed voting practices.
Kaiser reflected, "It's impossible to think about these as just numbers to add up. As a business student, this has reinforced the idea that I can't ignore what is happening in the political realm. I can't ignore what's happening in elections, local or national. There are a lot of policy combinations that might get you to fiscal health, but what comes first is figuring out who we are as a country and how to proceed with the priorities we have set for ourselves."
Watch the video
and read more about the event.
​