Tales in Possible
Empower Possible
Microsoft CEO Satya Nadella sat down with MBA student Wedad Audi for a Q&A jointly hosted by NYU Tandon School of Engineering and NYU Stern on Feb 7.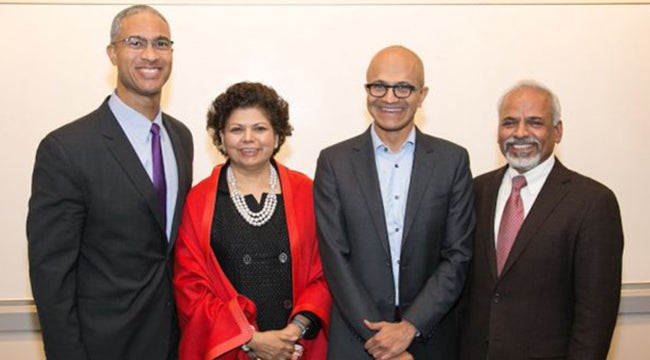 Left to Right: Peter Henry, Dean of NYU Stern School of Business; Chandrika Tandon, NYU Board Member; Satya Nadella, Microsoft CEO; Katepalli Sreenivasan, Dean of NYU Tandon
It was standing room only at the NYU Global Center for Academic and Spiritual Life on February 7, as Chandrika Tandon took the stage to introduce Satya Nadella to an excited audience of students from her namesake School of Engineering and the Stern School of Business. Nadella has held the top spot at Microsoft since 2014 and has been widely credited with revitalizing that iconic tech company, so it was no surprise that he was greeted as something of a rock star by the aspiring engineers and businesspeople in attendance.
His corporate mission, as he explained during his address, is to empower every person and every organization on the planet to achieve more. "That's not merely a slogan on a poster," he stressed, "it's why we show up every day." Nadella recalled that even as a child in his native India, Microsoft had reached him through its products, vastly expanding his horizons. He is determined to continue that democratization of technology initiated by the company's founder, Bill Gates. "Bill dropped out of school to found Microsoft, and his first product was a BASIC interpreter for the Altair (an early desktop computer), so we were born, right from the start, to create tech that will allow others to create."
Stern MBA candidate Wedad Audi (who confidently introduced herself as a former Microsoft intern and a future full-time hire), moderated a Q&A session, and Nadella answered each query with careful consideration and thoughtful advice. Among the takeaways were:
All businesses are essentially becoming tech businesses — from fast-food enterprises using voice recognition to speed the ordering process at the drive-through window to car services deploying image recognition for increased safety
The last day of school is far from the last day of your education; you must always retain the ability to listen and learn
If you listen well enough, you'll be able to meet needs your customer hasn't even articulated yet
The line between confidence and hubris is thin, so be careful not to cross it
Always strive to be a "learn-it-all," not a "know-it-all"
He acknowledged that navigating a career is not always easy. "When I first got to Microsoft," Nadella recalled, "it was like being at math camp with a bunch of brilliant people. I constantly felt inadequate. Eventually, I just gave up and realized that I simply had to act like myself."
Before addressing the students, Nadella met with Tandon's dean, Katepalli Sreenivasan; Stern's dean,
Peter Henry
; Mrs. Tandon; and a select group of professors (Justin Cappos, Rumi Chunara, Luke DuBois, Siddharth Garg, and Vittoria Flamini from the School of Engineering, and
Anindya Ghose
,
Panos Ipeirotis
,
Sonia Marciano
,
Arun Sundararajan
, and
Alex Tuzhilin
from the business school). The imperative for strong and trusted partnerships between academia and industry was a much-discussed theme. "We need growth, and that comes only from innovation, and innovation starts with research like that being done here," Nadella said. Echoing Dean Sreenivasan's assertion that technology must be used for the benefit of society, he continued, "I'm energized by seeing how quickly human knowledge is expanding and thinking of how that knowledge can be put to best use."