Tales in Possible
Explore Possible
NYU Stern senior Alexandra Sorrentino mixes finance with international cultures as she prepares for the start of her career.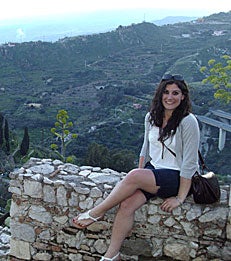 I can look back at my time at Stern and know that I had a unique experience.
NYU Stern undergraduate student Alexandra (Allie) Sorrentino always believed she would attend NYU—after all, her father graduated from NYU in 1983 and she grew up in Brooklyn, only a short train ride away from Greenwich Village.
As a freshman, Allie joined the Undergraduate
Stern Women in Business student club
(USWIB) as a way to build her network and to take part in the mentorship opportunities available. Now a senior majoring in finance and accounting, Allie is USWIB's president. "There is a legacy; I was taken under my mentor's wing and now I am a mentor," she recalled. Through resume reviews, club events or just answering questions, Allie says it's great to be involved with the club's 140 members.
While her roles in USWIB and as senior class treasurer of the Student Council (and, of course, studying!) take up a good deal of time, Allie has traveled abroad three times while at Stern. "I didn't even realize I wanted to go abroad but I saw how easy it was. Stern is so global and there are so many opportunities," she explained. Allie went to Buenos Aires, Argentina, through the Edward and Nancy
Barr Family International Studies Program
and Lima, Peru by way of the Stern
International Volunteers Program
. Her favorite time away from New York City was a semester in Florence, Italy, during her sophomore year. "It was my best semester in college," Allie noted. "I became conversationally fluent in Italian, immersed myself in another culture and built a small, close-knit community of friends who are still great friends today."
In her final year, Allie is combining all that she's experienced at Stern with her summer internship experience at an international bank. "I am taking an investment banking class now and it's all clicking," she said. As she heads into a career in banking, Allie explained, "I can look back at my time at Stern and know that I had a unique experience. While students at other universities may be anxious about transitioning out of college, I am already confident to take that next step."