Short Term Immersions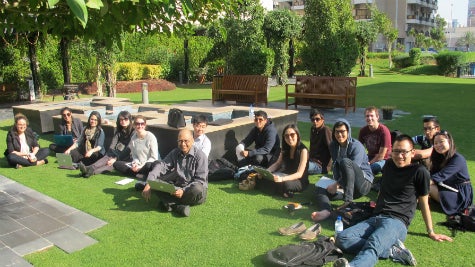 Professor Sunder Narayanan (center) and students having class outdoors on the NYU Abu Dhabi campus as part of the SAW Abu Dhabi short-term immersion program.
Stern Around the World (SAW) short-term programs allow students to immerse themselves in the local culture. These three programs combine coursework with international travel to enrich the academic experience:
Through
SAW Abu Dhabi
, students examine key cultural, economic, political, and social structures and trends in the Middle East, and assess their implications for business strategies. Students in this course take a trip to Abu Dhabi to experience firsthand what has been taught in the classroom.
Through
SAW India
, students take a trip to Mumbai and Mahabalipuram to study the economic development of this key emerging market and the role private social enterprise (both for-profit and not-for profit) plays in India.
SAW Ghana
is part of the
Stern International Volunteers Program
, an important component of NYU Stern's Social Impact co-curricular programming. SAW Ghana offers freshmen, sophomores and juniors the opportunity to travel to Accra for 10 days in the spring to serve the needs of the local community. Through this program students gain a heightened inter-cultural awareness while deepening their commitment to community service.