Beth Bechky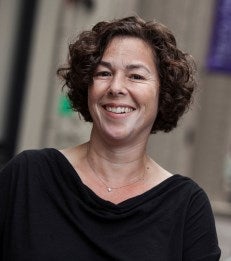 Biography
Beth Bechky joined New York University Stern School of Business in July 2013 as a Professor of Management and Organizations with a courtesy appointment in NYU's Department of Sociology. She teaches courses in managing high performance teams.
Professor Bechky's primary research interest is the micro-sociology of work, and she focuses her attention on interactions and dynamics at organizational and occupational boundaries. She studies how occupational groups in organizations collaborate to solve problems, coordinate their activities, respond to surprises and innovate. She is the author of numerous articles in journals such as Administrative Science Quarterly, Academy of Management Journal, Organization Science and American Journal of Sociology.
Professor Bechky is currently the co-editor of Qualitative Organizational Research and was formerly a senior editor at Organization Science. She was on the council of the Organization, Occupations and Work division of the American Sociological Association from 2009-2012.
Prior to joining NYU Stern, Professor Bechky held professorial positions at The Wharton School at the University of Pennsylvania and the Graduate School of Management at the University of California Davis.
Professor Bechky received a B.S. (with Honors) from the School of Industrial and Labor Relations at Cornell University, and an M.A. in Sociology and a Ph.D. in Industrial Engineering and Engineering Management from Stanford University.
Research Interests
Micro-sociology of work
Organizational and occupational dynamics
Courses Taught
Managing High Performing Teams
Managing People & Teams
Academic Background
B.S., Industrial and Labor Relations
Cornell University
M.A., Sociology
Stanford University
Ph.D., Industrial Engineering and Engineering Management
Stanford University
Areas of Expertise
Industry
Consulting
Entertainment & Media
Technology
Management
Communications
Organizational Behavior
Team Dynamics & Performance
Technology & Innovation