Pankaj Ghemawat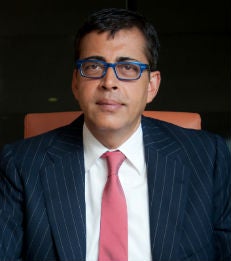 Biography
Pankaj Ghemawat joined New York University Stern School of Business in September 2013 as a Distinguished Visiting Professor of Global Strategy. He is also the Anselmo Rubiralta Professor of Global Strategy at IESE Business School.
Professor Ghemawat has written more than 100 research articles and case studies, is one of the world's best-selling authors of teaching cases and is fellow of the Academy of International Business and of the Strategic Management Society. Other recent honors include the McKinsey Award for the best article published in the Harvard Business Review, the Irwin Educator of the Year award from the Business Policy and Strategy division of the Academy of Management, and the Herbert Simon Award of Rajk Laszlo College for Advanced Studies in Budapest. He was also the youngest "guru" included in the guide to the greatest management thinkers of all time published in 2008 by The Economist and placed among the top dozen thinkers listed in the 2013 Thinkers50 Global Ranking of Management Thinkers.
Professor Ghemawat's books include Commitment, Games Businesses Play, Strategy and the Business Landscape and Redefining Global Strategy. His last book, World 3.0, was published in May 2011 by Harvard Business Review Press and won the Thinkers50 Book Award for the best business book published in 2010-2011, the Axiom Business Book Gold Award in the International Business/Globalization category and the IESE Alumni Research Excellence Award.
Professor Ghemawat helps companies and business schools better understand and address international opportunities and challenges. He served on the taskforce appointed by the AACSB, the leading accreditation body for business schools, on the globalization of management education, and authored the report's recommendations about what to teach students about globalization, and how.
Between 1983 and 2008, Professor Ghemawat was on the faculty at the Harvard Business School where, in 1991, he became the youngest person in the school's history to be appointed a full professor. He also developed a widely cited globalization index that was first released in November 2011; the 2013 version is available from www.ghemawat.com/dig.
Academic Background
Ph.D., Business Economics, 1982
Harvard University: Graduate School of Business Administration and Faculty of Arts and Sciences
A.B., Applied Mathematics and Economics, 1979
Harvard College