Nanyang Technological University: Student Feedback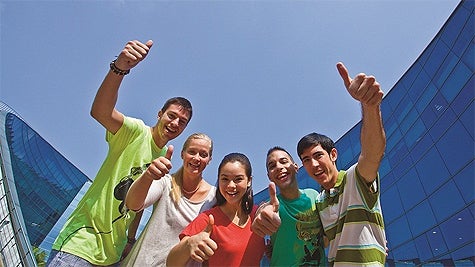 ---
Feedback from Students
Airline ticket: 1,500 USD
Transportation from airport to campus: Taxi (S$30 or about 16-17USD)
"Found out about housing prior to arrival."

Type: "On campus residence hall."

"No air-conditioning in many of the dorms. Some halls gave the option to purchase an air-conditioner."

"Halls 4-6 were the nicest."

Cost: "S$600 per semester (about 400-450 USD)."

"Ate on the campus, campus cafeteria, and out. There is a kitchen on every floor, but the best part of Singapore was the food. At each of the cafeterias fresh food was prepared for every order."
Course Content: "I took 4 classes - Marketing, BP & Ethics, Social Organization, and Elementary Chinese II. The Marketing course was pretty good, I learned a lot of intro marketing concepts. The BP & Ethics course was more towards business policy and management issues, so we didn't really cover any ethical issues. The case studies were helpful in applying the concepts for both classes. For Social Organization, it was disappointing. It was dry and the topics weren't interesting. The concepts were introductory level and stuff which I had covered in my H.S. classes. I expected Elementary Chinese to be easy and it was. It didn't really require much effort."

Workload: "Easier than Stern. There are no mid-terms, just weekly homework assignments. Finals were worth 60-75% of your grade."

Grading: "About the same as at Stern. They do have a curve that is imposed by the Registrar's Office. So, although the professor may award an "A", the Registrar makes the final determination."

Professors: "Very impressed. For the most part they had vast amounts of knowledge. The professors preferred to have lively discussions. The professors of my business classes seemed to care more about the students. They were well organized and their slides were really helpful. The professors of my general elective classes were dry and boring. They didn't really provide good feedback on papers or questions."

Classroom climate: "For each class there is a two hour lecture given once a week. They each have a 2-hour tutorial (a smaller class, much like NYU recitations) offered a number of times a week. Classroom had air conditioner and it was always cold, so you had to bring a sweater or jacket. My Marketing professor actually tried to involve the class by having us do surveys and exercise in groups. The recitations were designed to make the students talk and integrate what they learned by applying concepts to case studies."
Money/Expenses: "I brought $5000-$6000 USD. Singapore is very cheap but you spend a lot of money traveling. ATMs charge $2 per transaction so set up a Singaporean bank account or use HSBC. There are very clean communal bathrooms and the laundry is free but you hang clothes rather than using a dryer."

Overall Appraisal: "I thought this was a great experience. I learned about how the people lived, their struggles of being Asian influenced by Western beliefs and traditions, the way they felt about the government and education system. I learned to appreciate what I had in NY (for one thing, we're not required to provide or pay for paper when we print something out in the lab). We also have access to shows at our fingertips and places to eat that are open 24 hours. They have none or very little. I made a lot of local and international friends who were awesome. The locals that I met made an effort to welcome me and make me feel like I had known them for ages. They took me around to both tourist places that not a lot of foreigners would know about. They were mainly what made my experience so great. I also liked the fact that I got to travel around Southeast Asia. Since Singapore is closer than the U.S. the tickets were much cheaper. I got to go to Malaysia, Thailand, Indonesia, and HK. I bought and had things made things made in these countries that only cost a portion of what it would in NY. There were some things that bothered me though. The weather was hot and humid and it would rain every day, so my clothes would never get dry. There were a lot of huge insects flying around all the time. I also thought the education system was not that great. Kids are taught from an early age to start competing academically so they have to be #1 in everything. 70% of our classes were based on one final which I felt wasn't right. I worked pretty hard on class work assignments, but all it took was one test to mess me up. In addition, we are not allowed to look at our finals after they are graded unless we pay $10. I thought that was unfair because I wanted to see what I did wrong and learn from it. Their reason for that policy was so that not all the students dissatisfied with their exam grade would go and complain about it unless they were dedicated enough to pay $10. Overall though, the experience was worthwhile and wonderful."
Summer clothes (Sunblock, bathing suit, sneakers)
Laptop
Minifridge (buy it there)
"Leave food from home (they have everything from the U.S. already) and notebooks (they use A4 size paper)."

"You can rent blankets and sheets - you won't need sweaters or jackets."

"Leave anything electronic that you can live without (they don't use the same plugs and adapters can be expensive)."
English
"Try taking easier base courses like marketing, financial accounting, etc."
Orchard Road, Suntec City
U.S. Embassy Parties (every other Friday night)
Zouk (a club)
Sentosa Island
Tioman Island (Malaysia)
The Merlion
Night Safari
Chjimes
Holland Village
Raffles Hotel (the Long Bar) & The Fullerton Hotel
"All hawker stalls (especially Lau Pa Sat); any restaurant in Chijmes; any prata place; the noodles stall in canteen 2 in NTU (get the noodles with minced meat sauce); the fruit bread from the supermarket."
"Bargain for everything sold in the street and taxis in Malaysia and Thailand; be aware of friendly strangers in Bangkok; go to Chinatown to book cheap travel deals."